Peer Tutoring Blog
What is happening in the Peer Tutoring corner...
SCROLL DOWN to see what our peer tutors are currently working on!
9.16.2020- Laurie, French Tutor, and her First Semester of Online Tutoring
Hello everyone, my name is Laurie and this is my first blog for the semester.  I am excited today to talk about my experience tutoring French online for the first time in Fall 2020.
As all of you know, most UIC classes are being taught remotely this semester and so is peer tutoring. Throughout the summer I was thinking about how tutoring was going to be so different this semester and one of my colleagues and I talked about our fears for this semester but also our hopes. One of these hopes was to have many tutees come to our sessions. Both of us started tutoring for French a few years ago and our aim as tutors was and still is, to help UIC students who are taking French classes. We want to share with them our love for the French and Francophone cultures and the French language. Also, we want to give them some tips that helped us when we were learning French for the first time.
During my shifts, I like to do research on francophone cultures around the world and post them on the UIC LCLC Peer Tutoring instagram ( follow us @lclc_peer_tutoring). Last week, I was working on some instagram posts about the Republic of Togo when I suddenly heard someone say "hello" through my headphones. It was almost the end of my shift so I did not expect any students to come that day (which is the reason why I was very surprised). I was very nervous but so excited at the same time. I felt the same as I felt when I first started tutoring. During the last 10 to 15 min of my shift, the student and I worked on a homework assignment for their Fr 104 class.
Both of our cameras were off and we did not physically meet like I usually met the tutees in the previous semesters in GH 305 but we had a good exchange about what the student wanted to work on, and overall the session went well. I was very happy to be able to help this student.
I cannot wait to virtually meet and work with more French students this semester!!!  Here are the links to the Online tutoring schedule for all languages:
French: https://lclc.uic.edu/peer-tutoring/tutoring-schedule/french-tutoring-schedule/
German: https://lclc.uic.edu/peer-tutoring/tutoring-schedule/german-tutoring-schedule/
and Spanish! https://lclc.uic.edu/peer-tutoring/tutoring-schedule/spanish-tutoring-schedule/
5.4.2020 - Nikki on Cooking Casserole-Roasted Chicken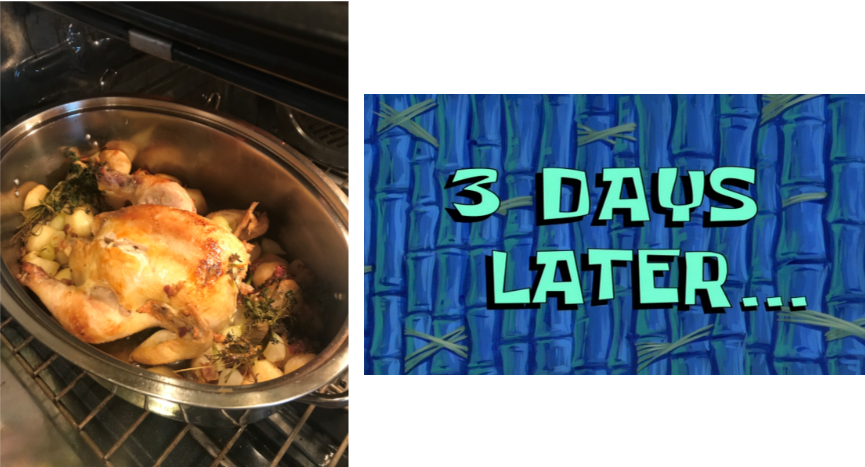 Bonjour, ça fait longtemps! A little French comfort food, anyone? In honor of the final week of the semester, I decided to celebrate my love for French culture by preparing a traditional roast chicken recipe from Julia Child's Mastering the Art of French Cooking.
First and foremost, it must be said that bacon, butter, and potatoes is the greatest combination to ever grace the palette. I blame this obsession on my Lithuananian heritage, though I think that most people can agree that it's hard to go wrong with a dish that includes these elements.
Detour: if any are interested in a traditional Lithuanian dish (which is pretty much always equivalent to a preparation of bacon, butter, and potatoes), search a recipe for Kugelis and na štai! *Do not dare forget to top it off with some sour cream.
This week's recipe from Mastering the Art of French Cooking is "Poulet en Cocotte Bonne Femme" (see below) which roughly translates to "good wife casserole-roasted chicken" or "housewife chicken"…interesting, not sure how I feel about that one. Moving on- this recipe was a major step for me, considering that most of the 'roast' chicken I eat is conveniently found in the frozen aisle at the grocery store where it is often decorated with the word "Banquet" on lovely red packaging. Now, just because I've recently been attempting to cook real food does not mean that I'm breaking up with my TV dinners! That relationship is long-lasting and I refuse to ultimately betray the questionable frozen food that has sustained me for the length of my college experience thus far.
Scroll down for the recipe!
So when it was time to start cooking on Thursday night, my mom was very amused with the idea of me preparing a legitimate entree. She quite literally sat down at the table with a glass of wine to watch me struggle, claiming that she had to witness my first time cleaning a whole chicken. I have to be honest, I expected that the chicken came oven-ready (blame it on my extensive experience with frozen foods), so I was a little taken-aback when I had to pull out the giblets. All was well though, and I washed the chicken like a seasoned professional.
As you could probably tell, there was a lot of preparation for what seemed like a simple roast chicken. Anxious as I was though, it turned out edible and I even received compliments from my dad (who's a harsh critic). Though I also realized that after preparing dinner for 2 hours, I had grown tired of looking at the food and didn't want to eat it. You win some and you lose some, I guess. I also learned a few things that will be useful in my future chicken quests, including that I cannot peel a potato for my life. I believe I was standing at the garbage can hacking at the same potato for nearly 15 minutes when my mom had to swoop in to save the day (the big guns). I am not exaggerating when I say that that woman peeled fifteen potatoes in the time it took me to peel one. If it wasn't for her, I would probably still be peeling potatoes 3 days later (reference Spongebob image). I also learned that apparently I despise bay leaf. Even though I only added one bay leaf to each herb bouquet, it was too overpowering and took away some of the bacon flavor (would recommend leaving this ingredient out). Though it was still tasty, I will not be making this again in the near future; perhaps I would do better with a simpler chicken that I can unwrap and throw in the microwave.
Poulet en Cocotte Bonne Femme
Ingredients
½ lb chunk of bacon
Casserole for the chicken
1 Tb butter
A 3 lb whole chicken, trussed and buttered
20 peeled white onions (pearl onions)
1 to 1 ½ lbs. small new potatoes
3 Tb butter
¼ tsp salt
2 small herb bouquets: parsley, bay leaf, and thyme
A bulb baster
Aluminum foil
Cover for the casserole
Remove the whole chicken from packaging and pull out the giblets. Wash the chicken thoroughly with cold water.
Prepare the pearl onions by boiling them in water for 30 seconds, and then quickly submerge them in ice-water. Holding the onion by the stem, pinch the onion so that it slips out of the skin. Boil the onions in salted water for 5 minutes. Drain the water and set the onions aside in a bowl.
Cut the bacon into small rectangular pieces (½ inch by 1 ½ inches). In 2 quarts of water, simmer the bacon pieces. After 10 minutes of simmering, rinse the bacon with cold water, dry, and then saute it in butter for 3-5 minutes (in the casserole). Remove the bacon and place it in a side dish for later use.
Using the leftover bacon fat in the casserole, brown both sides of the chicken. Remove it to another side dish and wipe out the grease from the casserole. Preheat the oven to 325 degrees.
Peel the new potatoes and cut into halves/quarters. Place them in a pot of cold water and use medium-high heat to bring to a boil. Drain the water and set potatoes to the side.
Melt the 3 Tb butter in the casserole so it is foaming and add the potatoes. Spread them in the butter for about 2 minutes. Push one half of the potatoes to one side of the casserole and the second half to the other side of the casserole. Sprinkle the chicken with salt and place it in the casserole, breast up. Cover the potatoes with the bacon and the onions, with one herb bouquet on one side of the casserole and the other on the opposite side. With the baster, coat all of the casserole's contents with butter. Cover the chicken with aluminum foil and place the casserole cover on. Heat the casserole on the stove until everything is sizzling and then remove the cover to roast in the center of the oven for 80 minutes (or until golden brown). Remove the casserole and baste the chicken and contents with more butter and the juices in the pot. Bon appetit!
So when it was time to start cooking on Thursday night, my mom was very amused with the idea of me preparing a legitimate entree. She quite literally sat down at the table with a glass of wine to watch me struggle, claiming that she had to witness my first time cleaning a whole chicken. I have to be honest, I expected that the chicken came oven-ready (blame it on my extensive experience with frozen foods), so I was a little taken-aback when I had to pull out the giblets. All was well though, and I washed the chicken like a seasoned professional.
As you could probably tell, there was a lot of preparation for what seemed like a simple roast chicken. Anxious as I was though, it turned out edible and I even received compliments from my dad (who's a harsh critic). Though I also realized that after preparing dinner for 2 hours, I had grown tired of looking at the food and didn't want to eat it. You win some and you lose some, I guess. I also learned a few things that will be useful in my future chicken quests, including that I cannot peel a potato for my life. I believe I was standing at the garbage can hacking at the same potato for nearly 15 minutes when my mom had to swoop in to save the day (the big guns). I am not exaggerating when I say that that woman peeled fifteen potatoes in the time it took me to peel one. If it wasn't for her, I would probably still be peeling potatoes 3 days later (reference Spongebob image). I also learned that apparently I despise bay leaf. Even though I only added one bay leaf to each herb bouquet, it was too overpowering and took away some of the bacon flavor (would recommend leaving this ingredient out). Though it was still tasty, I will not be making this again in the near future; perhaps I would do better with a simpler chicken that I can unwrap and throw in the microwave.
Et c'est tout folks! In these brief reviews, I hope I was able to provide a little taste of French culture along with some useful recipes to try at home. I will be continuing to cook with Julia Child over the summer so that, hopefully, I won't depend (as much) on TV dinners next semester. Keep in mind that through cooking and reading, you can travel to France within your own home. Bon été et bon appétit!
Child, J., Bertholle, L., & Beck, S. (2001). Mastering the Art of French Cooking: Distributed by Random House. New York: Alfred A. Knopf.
–Nikki
5.4.2020 - Laurie on French and Haitian Creole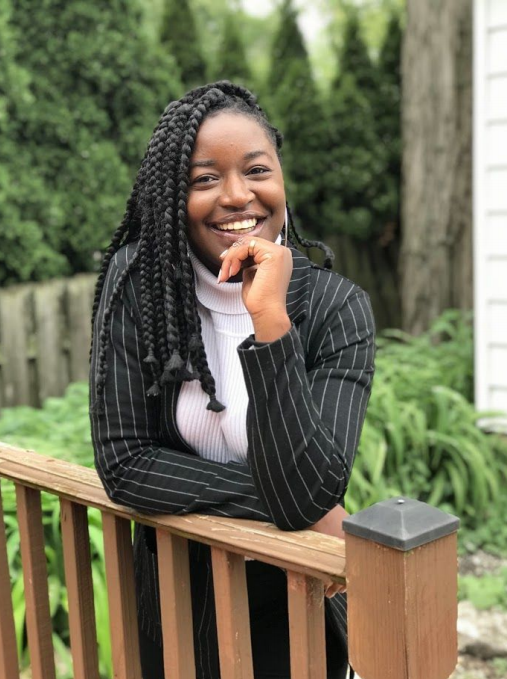 My name is Laurie, I was born in the United States but I grew up in Haiti and spent 16 years of my life there. I moved to Chicago four years ago when I was about to turn 17 years old.
In Haiti there are two official languages French and Haitian Creole, these languages are my first two languages and the languages I feel the most comfortable speaking especially when I'm upset. I think I get this from my parents, they would always switch from French to Creole, Creole to French or from English to Creole whenever they were upset. After speaking to many students at UIC, I realized that my parents are not the only one switching between languages when they are upset. Many people who speak multiple languages do that, I think it's because it's easier or more comfortable to express their emotions in their mother tongue.
Although I went to schools with French programs most of my life (from first grade to Junior year in high school), I was required to learn English and Spanish in addition to French and Creole growing up. When I was learning these two languages I was able to find some similarities between Spanish and French but I was more focused on "mastering" my English because I knew I would have to come back to the US to go to college. My language learning journey has not been easy for these languages because (besides being very unique) each language has its own complexity. However, it's a journey worth taking.
Not too long ago, I would always feel embarrassed when speaking English because I knew that my accent was strong and different. The first year when I came back to the US to pursue my education, I would never speak to anyone in class because I was scared that people would laugh at my accent or that I would say something wrong which I thought would make the students make fun of me. I was wrong to think like this. I didn't realize that I wasn't the only one with an accent, that it was okay to have an accent when you are not speaking your native language and that I shouldn't be ashamed of mine because it tells people a little bit about my story as an Haitian-American. Now that I understand the meaning of having an accent and the benefits that it can have, I take the opportunity to talk to people about where I'm from and everything positive I think about my country every time someone asks me "I love your accent, where are you from" or "I love your accent, what languages you speak". I was fortunate enough to travel to Guatemala a few years ago and practice my Spanish a little bit. Although I am still not fluent in Spanish like I am in English, French and Creole, I can say that learning all these languages have been a great opportunity and a huge blessing because I was able to connect with many people around the world and see the beauty in each language.
5.1.2020 - Andrea on Tips and Farewell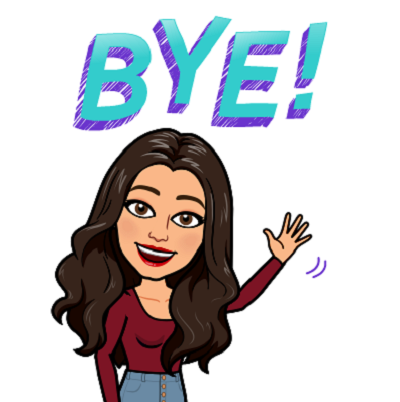 Today is my last day as a UIC undergraduate student. It's a little sad but also exciting. However, I am not leaving without sharing a little bit of my wisdom. I will be receiving my Bachelors in Spanish with a concentration in Hispanic Studies. Thus, I have taken language classes at UIC for the last four years! Here are a few tips on how to succeed in language classes:
Practice: Practice, Practice, Practice! I can't stress this enough, practice! During my time at UIC I took Spanish classes and Portuguese. Although I am a native Spanish speaker, my Spanish is not perfect so I tried to expose myself to the language as much as possible. I started listening to more music in Spanish and watched more TV in Spanish as well (Check out our Instagram page  for movie and TV show recommendations). For Portuguese, I downloaded the Duolingo app and kept practicing there. Practicing is important because it can help you understand a language more and be exposed to other elements such as pronunciation.
DO ALL OF YOUR HOMEWORK!: Yes, really, do your homework! For some language classes, homework assignments make up a decent percent of your grade. If you start missing some of your assignments, you'll see your grade start to take a dip. Don't be lazy and do your homework – those are pretty easy points to earn!
Participate in class: Some language classes grade participation others don't, regardless try to participate. If you participate you'll be more engaged and more likely to retain the information and you'll be practicing (ehmm point #1)
Study for exams: Try to review material before your exams. Whether that's in a study group or independently, whatever works for you.
Have fun: And lastly have fun or at least try to. Some of you are learning a new language and others might be learning a language in more of an academic setting, either way both scenarios can be stressful so I advise you to try and have fun during this process because it's a new experience and always try to make the best out of new experiences for better results.
I hope you guys follow some of this advice. I might be a little biased about language classes being fun because I am a language major but I can assure you these tips will be very helpful. Good luck in the rest of your UIC journey!
Best wishes,
Andrea
4.29.2020 - Laurie, French peer tutor, on majoring in French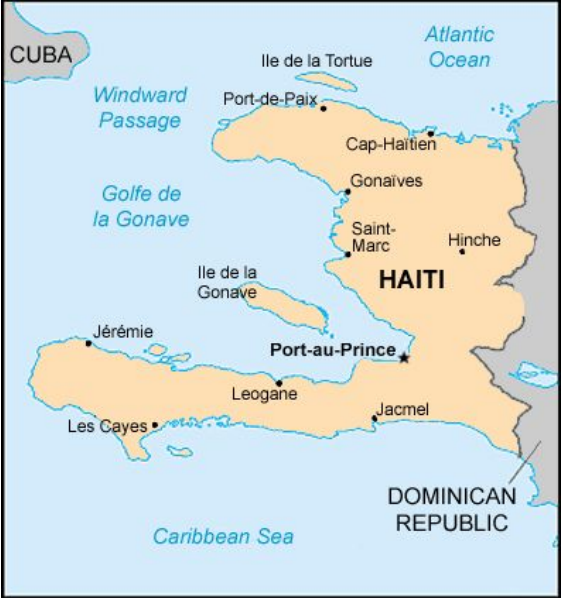 My name is Laurie, I am a Junior at UIC and I grew up in a country located in the carribean called Haiti (Ayiti), where Creole and French are the two official languages.
Multiple times I get asked questions like: "What made you want to become a French peer Tutor?", "Why are you majoring in French and Francophone studies when it's already one of your native languages?", "Why French, why now, why here"?
The answer to all of these questions is simple: I love French, I love learning about the numerous Francophone countries around the world, I love helping people and one of my dreams is to work as a dentist in a francophone country. When I first became a French peer tutor back in 2019, I was very anxious because I feared not being able to explain well enough the questions that the tutees would have because sometimes it is very difficult to explain something that you just know or something that you have learned a long time ago. Although I had this concern, I was always very excited to work with the students and talk to them about the francophone country I grew up in.
I've been tutoring for a while now, and I can see how my journey as a French tutor has improved. I am more comfortable and I have developed a relationship with the majority of the students. Most of them come back multiple times throughout the semester and it's always a pleasure to see their faces and help them with whatever they need help with. I have also built a relationship with other peer language tutors who also love the language they are tutoring and have the same goals as me — to show how unique and beautiful each language is, to help them succeed in their language classes and to show them that learning a languages at UIC can be really fun and useful. My journey as a peer tutor has been absolutely amazing so far, it's important to help others and I want to do so as a peer tutor with UIC students.
4.23.2020 - Maria on Spanish across Fields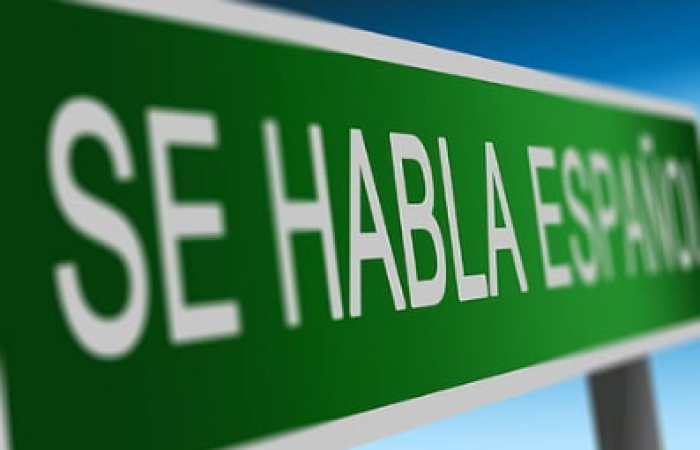 I am a Criminology, Law, and Justice major with a minor in Spanish. I desire to work for Federal Law Enforcement whether it be the FBI, DEA, or Border Patrol. Being a fluent Spanish and English speaker allows me to be better qualified for positions in these fields due to the daily interaction agents have with people from all cultures. In this day and age there are many career paths language is able to open up for you.
There are 53 million Spanish speakers, 41 million native Spanish speakers, and 11.6 million bilingual Spanish speakers living in the United States. Because of this expansion of Spanish in the country some jobs have added a requirement for their employees to be bilingual (Spanish and English speakers). Knowing more than one language helps a person become more culturally aware but also opens the doors for better positions in the workforce.
Forming part of UIC allows students to embrace a diversity of cultures and languages from all over the world and allows for students to develop skills that will open up careers for them. Learning more than one language helps a person stand out when applying for a job, especially today where English is no longer the predominant language in the Chicago area.
10 Jobs that require Spanish speaking skills:
– Teacher
– Interpreter/ Translator
– Customer Service Representative
– Sales Professional
– Medical Professional
– Law Enforcement Professional
– Social Worker
– Writer
– Administrative Assistant/Receptionist
– Teller/Personal Banker
– Maria
Kreisa, Meredith. "Have You Tried Applying for These 10 Jobs That Require Spanish Language Skills?" FluentU Spanish, 9 Mar. 2019. www.fluentu.com/blog/spanish/jobs-that-require-spanish/
Scamman, Kimberly. "Spanish Speakers in the United States (Infographic)." Telelanguage, 24 Feb. 202. https://telelanguage.com/spanish-speakers-united-states-infographic/
4.22.2020 - David on the French Festival of Music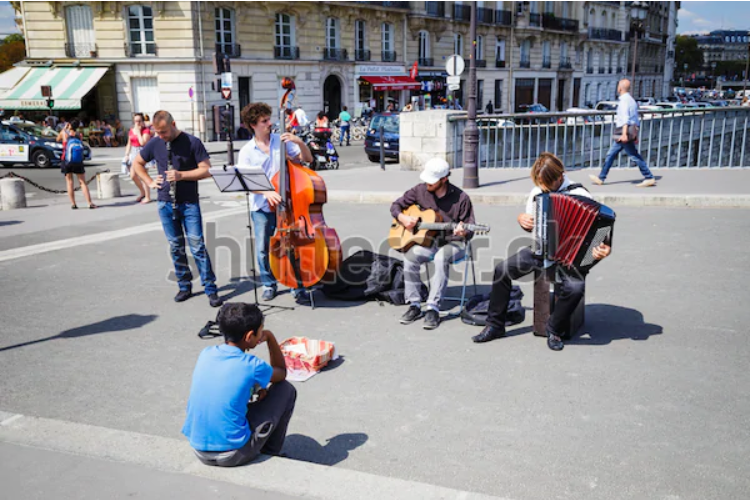 The French Festival of Music takes place in June all over France, and even in neighboring countries since 1982.  The streets come alive with music, including bands, singers, musicians, drummers, DJs and more. There are stages set up along the streets and in public plazas, and even along the river Seine.
This is a great time to see French street musicians and other performance artists. One of my favorites, French singer Zaz, started out as a street musician of this type and is now quite well known throughout French and across Europe.  She cites Edith Piaf as a major influence, putting a modern spin on the typical French folk singer vibe.
The musicians you may see at these festivals play a variety of music including traditional French music, jazz, soul, hip-hop, world music, and more.  There will often be performance artists such as interpretive dancers, live statues, artists, dancers, jugglers, and more.
One of the best things is that there are often discounts on public transportation, making it easy to get around the city and see this music. There are lots of street food vendors, in case you get hungry amongst all of the wandering and listening. You can try fresh crepes, other French street food, and even food inspired by other Francophone countries throughout the Caribbean, Africa, and the Middle East.
Some artists of these genres that I like besides Zaz include: Renaud, Renan Luce, La Caravane Passe, Zoufris Maracas, and Toofan. You can find any of these artists on YouTube. Most are singer-songwriters, "gypsy-jazz", or North African influenced jazz/hip-hop/pop/folk music.
The main website is here: https://fetedelamusique.culture.gouv.fr/ and it includes a schedule of events including Festival of Music events taking place across the world. This is a great opportunity to experience the culture of French speaking people even outside of France.  However, with public gatherings for the summer a little up-in-the-air at the moment, you can find out about how to participate from home here: http://www.makemusicday.org/2020/03/make-music-day-2020/ in case some of the main events are cancelled publicly.
– David
4.16.2020 - Nikki on Cooking Crepes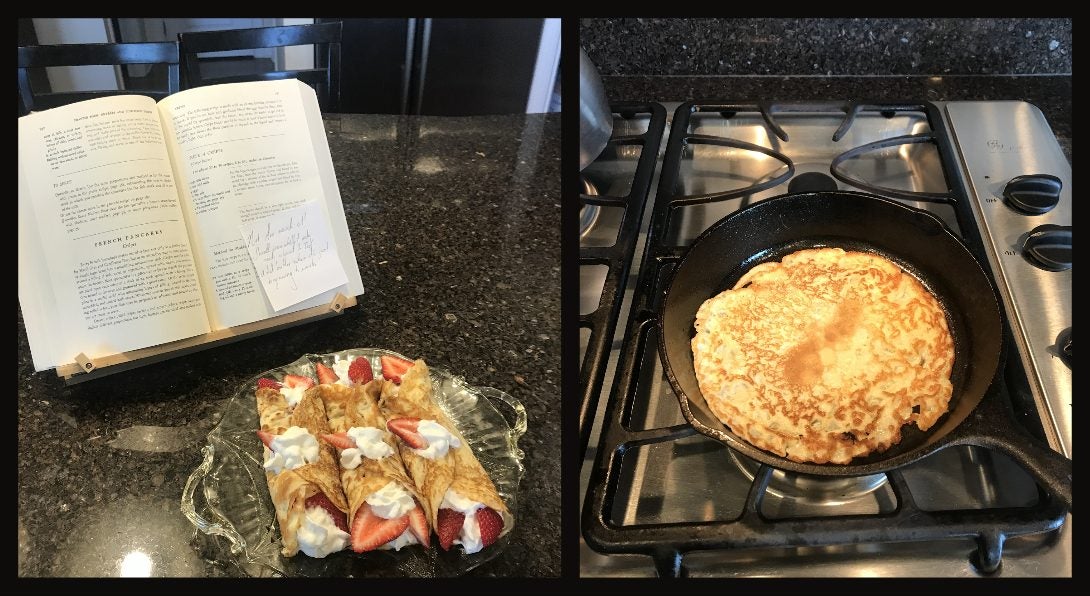 C'est presque le week-end tout le monde!
This week I couldn't help but make a classic French dish from Julia Child's Mastering the Art of French Cooking (Child, Bertholle, Beck 191): pâte à crêpes (crepes). I've eaten plenty of crepes before, but this will have been my first time making them; and what better than to follow the directions of the master chef herself? For those interested, here is a link to another online crepe recipe that was inspired by Child's rendition: https://champagne-tastes.com/cooking-101-french-crepes/
Crepe Batter:
1 cup cold water
1 cup cold milk
4 eggs
½ tsp salt
1 ½ cups flour
4 Tb melted butter
Crepe pan or skillet
Mix all of the above (in an electric mixer or by hand), starting with the water, milk, eggs, and salt. Then mix in flour and butter. It takes all of 5 minutes to prepare this crepe batter!
The ingredients, I realized, were pretty basic and can probably already be found in most pantries: water, milk, eggs, salt, flour, and butter (Julia Child worshipped butter, like us all). Unless someone out there has sold their soul to the art of crepe-making, a crepe pan is NOT necessary! Although they can be cute and pretty, you just need a skillet, preferably iron. After mixing the batter, its consistency should be like a watery pancake batter. If it is too heavy, the crepes will come out thick and chunky and no one wants that, not even your grandparents.
Now for the hardest part: trying to tame the elements. The first crepe should always be a trial. The heat should be turned medium-high (not too high or one side will quickly burn and not too low or it won't fry correctly). I noticed that if you have a smaller skillet (8-10 inches), only 1-2 Tb of oil is necessary. Too much oil will make the crepe greasy and grossly inedible. However, enough oil should be used so that the batter fries as soon as it touches the pan. This leads me to another revelation: after adding the oil, it is imperative that you add the batter AS SOON as you see smoke from the pan. Waiting too long will produce an embarrassing excuse for food that even the FDA wouldn't approve of. We are also not trying to alarm the neighbors by recreating the Great Chicago Fire. It's safe to say that I had a brief moment of panic where I thought I thought my fire alarms were about to be set off.
Surprisingly, flipping the crepe was not terribly hard. I must've had built-up anxiety about this part due to previous unfortunate circumstances with other flippable foods because there was a small celebration when I successfully turned the crepe without ruining it. In terms of filling, I attempted to make homemade whipped cream with half and half because I was previously told (thanks mom) that if you added some butter, it would make up the same fat content that is in heavy cream. This was a big mistake. Bits of cream-coated butter EVERYWHERE. I don't even know how that was possible since I melted the butter first. The failure could have been due to my mixing bowl not being cold enough, but it doesn't matter because I was temporarily scarred and resorted to using canned whipped cream. The point is, if you want to make homemade whipped cream, you need four essential items: heavy cream, sugar, vanilla, and a cold bowl.
Overall, this recipe is simple, easy, and versatile. There are plenty of different crepe-filling recipes that are cream cheese-based (yum) that can be found online. Add anything you like – candy, nuts, fruit, etc. But all you really need are the basics beloved in France: any kind of jam, just sugar, Nutella, or–try a savory crepe with melted cheese or ham.
If you or a quarantined loved one is suffering from pyromania, do not try this at home. Do try this at home if you want to be temporarily relocated to a Parisian crêperie. MIAM (=French for yum!)!
– Nikki
Child, J., Bertholle, L., & Beck, S. (2001). Mastering the Art of French Cooking: Distributed by Random House. New York: Alfred A. Knopf.
4.16.2020 - David on Volunteering

Connecting with the French Community in Chicago
One of the great things about learning another language like French is the opportunity to use the language to connect with that community in your city. There are French businesses, French immigrants, and other Francophone speakers who work and live in Chicago. Becoming involved in local activities is a great way to meet people in that community and to practice your language.
After a study abroad trip to Paris last year, I was fortunate enough to connect with folks from the Chicago Sister Cities International Paris Committee as well as the French Consulate.  Through meeting those people, I was able to volunteer at several Chicago events, including at the Chicago Marathon and the Field Museum.  Volunteering is also a great way to practice a language. When you volunteer within a community, it gives the people of that community a chance to get to know you, and you're able to demonstrate an interest in them and what they are interested in as well.
Once you've made connections in a community, you can learn about events, food, culture, and other types of experiences. I was able to find out about a French singer from Paris who was performing in Chicago and was even able to arrange to buy extra tickets from someone when it was sold out. Likewise, I've been able to offer suggestions to French people who are visiting Chicago about places to eat, where to accomplish certain things in Chicago, and more.
The best way to learn a language is to practice speaking with others. Here in Chicago, being a multicultural city, we have access to people who speak a variety of different languages. By getting involved in the French-speaking community at UIC, that of greater Chicago, and now even online, we can easily practice French and make great connections with other Francophones.
– David
4.9.2020 - Nikki on trying out new French recipes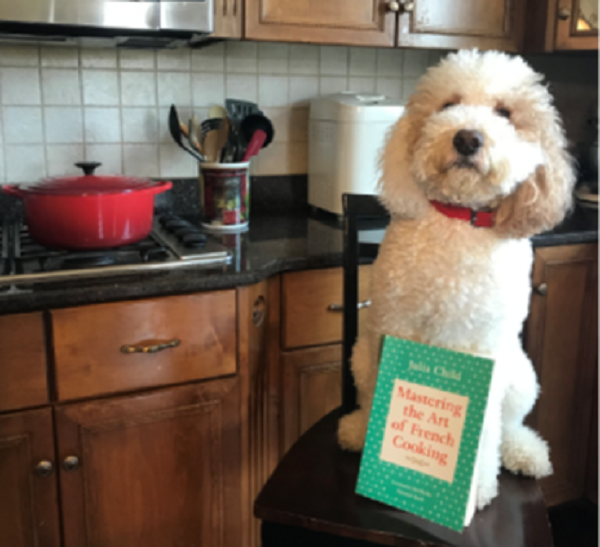 Salut tout le monde!
Before Julia Child, French cuisine was an enigma to Americans. One of the most renowned chefs in American history, Julia Child found her love for cooking in 1948 when her husband was reassigned to the U.S. Information Service at the American Embassy in Paris. She attended Le Cordon Bleu, one of the most prestigious culinary schools in the world. Teaming up with fellow chefs, Simone Beck and Louisette Bertolle, Child authored her famous cookbook, Mastering the Art of French Cooking (1961). She became an icon and was granted a PBS special in 1963 to bring her cooking tips to the small screens of America.
PBS recently revisited the legacy of Julia Child by airing a new special called Dishing with Julia Child where modern cooks watch and discuss her specials from 1963. There are two episodes every Friday night at 10:00pm and 10:30pm on PBS (WTTW). Also available to watch is Julie and Julia on Netflix which is a biographical narrative about two women of different times: Julia Child (played by Meryl Streep) and Julie Powell (played by Amy Adams). Julie Powell represents the real life author who committed to cooking every single recipe (524 recipes in total, yikes!) in Julia Child's Mastering in 365 days whilst blogging her progress.
In the midst of all the chaos happening in the world right now and #stayathome, I have decided to venture out into the dark, mysterious depths of my house that is… my kitchen. Now that I have this extra time and no books left to read, I have decided to take it upon myself to attempt some of these recipes. Of course, I will only be cooking recipes from Mastering that are practical and non-wasteful in terms of resources during the pandemic. The goal is to cook 1-2 recipes a week, depending on difficulty and access to ingredients.
Today's featured recipe is one for croissants (not from Mastering) that I found online last week at this link.
For people who are unfamiliar with baking, precision and adherence to procedure is very important, so this recipe is great because it outlines every step with pictures, tips, and explanations. Homemade croissants are not necessarily an easy task. For about 6-7 hours, it is just layering the dough and waiting, however, performing these steps correctly is principal to traditional flaky croissants. If you do not have the patience or strength to commit to Jo's outline, this recipe is NOT the one for you.
For the sake of healthy eating (if your family/friends are dieting like mine) or if you're only feeding 1-3 people, I recommend cutting this recipe in half to make 12 croissants instead of 24. I made this mistake and could not prevent the wrath of hungry parents.
Do try this at home. Not recommended for people who dislike butter. No tree nuts added. A chocolate or fruit filling is encouraged. Dippable in cafe au lait.
– Nikki
3.13.2020 - Andrea on Espanglish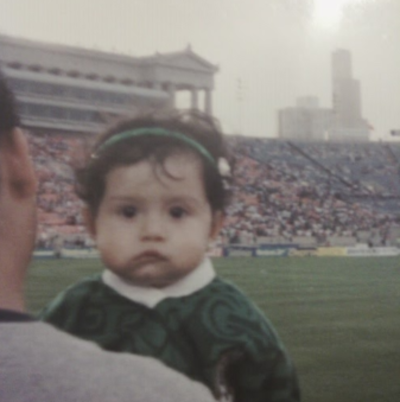 Spanish is my first language. It was the first language I ever learned. My parents migrated from Mexico to the U.S and the only language they spoke was Spanish. I was their first child and an only child for a few years.Thus, as they were raising me they did it all in Spanish. My mom used to read a lot to me in Spanish because she saw I had an affinity for books even before I started school. When it was time for me to go to school, she enrolled me in bilingual classes; however, I don't remember them actually being bilingual, everything was in Spanish. I learned to read and write in Spanish as well as learn all other subjects in Spanish. It wasn't until the second grade when teachers started to incorporate English into their lessons. I didn't find English hard but I did notice I had an accent, which felt embarrassing and discouraging. At the end of second grade my teacher informed me that my English was very good and that the following year I was going to be placed in an English only classroom. I was very nervous about this because I didn't feel confident enough.
However, learning English was not that hard for me and by being in an English only classroom my accent went away soon due to how much I was practicing and exposed to English. After I was placed in English only classes, I didn't have classes in Spanish at all. I was only exposed to Spanish at home when talking to my parents. I was grateful that Spanish was spoken at home because it allowed me to practice spoken Spanish; however, since I stopped reading and writing in Spanish I knew those areas were not as good as they could be.
It wasn't until my senior year of high school that I took another Spanish class. We had to take a language course in high school and the only language that was offered was Spanish. I actually placed into AP Spanish because my spoken Spanish was very good due to the fact that I still spoke it at home. I did very well in AP Spanish but did struggle with grammar a little. After high school I didn't think I was going to take a Spanish class ever again. However, here at UIC they also told me I needed to take a language course so I decided to take Spanish again. I had previously enjoyed learning Spanish in an academic setting so I found myself really liking it in college too. I soon realized that my Spanish courses were the classes I looked forward to the most. At that time I was undecided so I did some research on what you can do with a Bachelors in Spanish. It turns out you can do so many things with a BA in Spanish, so I ended up declaring Spanish as my major. I love the Spanish language not only because it was my first language but because I sort of fell in love with it all over again.
– Andrea
3.11.2020 - Ella on Learning Spanish
For as long as I can remember, I've always been able to understand Tagalog (Filipino). My parents would occasionally talk to me in Taglish (English and Tagalog) all throughout my childhood, stressing the importance of knowing one's roots, but ultimately stopped speaking to me in Tagalog altogether in the later years. On the other hand, my grandmother, who lives with us and helped raise me, would only talk to me in Tagalog since she immigrated here with my mom well into her forties and has had a hard time speaking English even to this day. When I started learning Spanish in 6th grade, I realized how differently I would have to work to understand both languages. For Tagalog, it came naturally. I wouldn't have to think of the English translation and could simply comprehend whatever was said to me or piece it out using context clues if I didn't understand a word or phrase. However, with Spanish, I learned to dissect each word and conjugation and had to bounce the English equivalent in my head a few times until I could fully understand what was being said.
Even then, knowing Tagalog first helped with learning Spanish. Over 300 years of Spain colonizing the Philippines heavily influenced how the language was spoken. Through more and more years of studying Spanish, I learned that Tagalog was an amalgamation of Spanish and the other tribal languages of the natives. Some examples of Spain's lingering influence off the top of my head include the word kumusta (Tagalog), which means "Hello" and cómo estás (Spanish), which means "How are you?" However, sometimes knowing both languages could get confusing since the same word can have the same meaning. For instance, siyempre (Tagalog) would mean "Of course" while siempre (Spanish) would mean "Always."
When I first started learning Spanish, my teachers would always grill us on being correct grammatically, never really emphasizing how to properly pronounce words, which set me back a couple years when I finally started learning in high school and college. I noticed how much this still influences me to this day since I can write essays in Spanish with little difficulty but have a harder time speaking fluidly when in a conversation with a native speaker. This made my last semester in SPAN104 somewhat difficult but simultaneously very interesting since we had assignments to FaceTime a native speaker from a Spanish-speaking country and held conversations for about 30 minutes. I gladly accepted this challenge since it pushed me out of my comfort zone and allowed me to use my verbal skills in a nice and controlled environment.
Now that I have a better understanding of the Spanish language and the many cultures of its speakers, I have a greater appreciation for anyone who takes on the task of learning a completely new language. 
– Ella
3.5.2020 - Nikki on "Médecins Sans Frontières" or "Doctors Without Borders"

As an undergraduate student with her heart set on both medicine and the French language, I've been advised to choose between the two, because "it is not necessary to know French as a medical practitioner." However, one of the biggest, most successful non-profit organizations requires both of these skills. This organization is called Médecins Sans Frontières or "Doctors Without Borders" and was founded in 1971 by French doctors and journalists who wished to "expand impartial and equal healthcare across borders without considering factors that can normally affect access to healthcare (such as politics or religion)." Their goal is to provide free healthcare all around the globe, often in Francophone (French-speaking) countries. My own professional goal is to work with Doctors Without Borders so that I can pursue both of my passions by practicing medicine in French-speaking countries
This non-governmental organization appeals to people who want a future of travelling and exploration while applying both language and medicinal skills to diverse communities and geographical areas. Complete language fluency is not necessarily required but those interested should be at the B2 (upper intermediate level) for the relative language. UIC students who are taking advanced language courses or are majors/minors in any language would be good candidates for Doctors Without Borders. Their website, doctorswithoutborders.org, details their current projects and career opportunities.
Even if you do not plan on pursuing medicine, but are still interested in applying your language skills to find a job around the French-speaking world, they offer other diverse career options. They have medical, paramedical, and non-medical field positions ranging from financial administrators, supply logisticians, and laboratory technicians to doctors, nurses, and psychologists. Their "Essential Requirements" page explains who strong candidates would be.
In addition to Médecins Sans Frontières/Doctors without Borders, there are numerous other organizations "without borders." Check out this website for a list of these other groups, including Accountants without Borders, Architects without Borders, Artists without Borders, Engineers without Borders, and plenty more. If you speak another language and wish to travel in the future, I highly recommend exploring this list and researching ways to integrate culture/language into your career.
– Nikki
3.2.2020 - The Importance of Being Fluent in Language(s)
Learning a  language can be fun, interesting and it sure can connect you to different places and cultures from other parts of the world. But most importantly, learning and becoming fluent in another language can create great benefits for you once you are in a professional setting and join the workforce. 
During the winter break,  I started a job as a cashier in a retail store. One of my coworkers was having some trouble trying to communicate with one of her customers who didn't seem to understand any English. The manager jumped in to try to help and eventually called me to be the intermediary and translate for the customer because she knew I am fluent in English and in Spanish. It was the first time I had put my Spanish to work in this specific work setting, so I was a bit nervous about not finding the correct translation for certain words. But as I got going, I felt more and more confident. The look of relief on the Spanish-speaking customer's face of knowing someone was able to help her communicate her concerns made me feel better. When we were done, she expressed her gratitude along with a huge smile.
More and more jobs are seeking employees who are fluent in a second language, as this creates a more diverse-friendly environment for everyone. Plus, speaking another language fluently could get you good chances of being accepted for a specific job. When learning a new language it is great to think about not only discovering an entirely new culture, but also about how that language can help you in the long run and eventually your professional life.  Keeping these advantages in mind will definitely encourage you to keep studying a language.
– Valeria
2.21.2020 - Ariana on La musica italiana: the greatest perk of learning Italian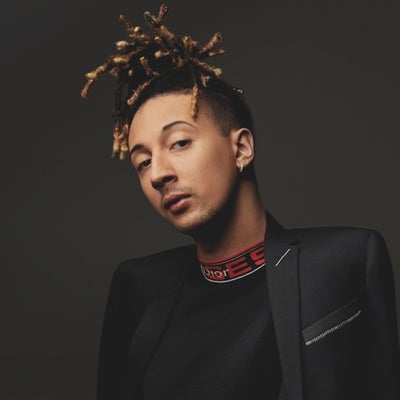 Italian culture is thoroughly a beautiful one–the food, the landmarks, the music. Italian music has produced some of the most influential international artists, such as Mina, Andrea Bocelli, Fabrizio D'Andre – and now, Ghali.
Ghali is an Italian pop singer and rapper of Tunisian descent who has gained rapid popularity throughout Europe and Africa, and his fame is now spreading to the United States. His music comments on immigration, racism, growing up in poverty, and the complexities of Italian culture. Though his songs are written predominantly in Italian, he also utilizes Arabic, French, and English in songs like "Wily Wily" and "Boulevard".
If you're looking for proof that understanding Italian music is one of the greatest benefits of learning the Italian language, just give "Cara Italia" by Ghali a listen and find out why "cara italia è la [sua] dolce meta."
To find out more about Ghali and practice reading in Italian, here is an interview he attended for RockIt.
– Ariana
2.10.2020 - Spanish-speaking countries: many different cultures to discover
There are about 21 countries in the world whose official language (or one of the many languages spoken) is Spanish! Growing up in Mexico I was completely exposed to the Spanish language and immersed in Mexican culture in a different way than here in Chicago. Over there, we were taught specifically about our traditions and festivities and our own history.
When I came to the United States and started taking Spanish classes in high school I was surprised to see the way in which they teach it. It is not only the language, but also some cultural aspects of various countries where Spanish is spoken, so they focus on teaching a little bit about each country and their history as well as their own and unique traditions different from any other country. It was fascinating to me how easy it could be to discover and learn about different places all connected through the same language.
I was introduced to places like Spain and Argentina that completely fascinated me and have made me want to visit them in the future. Things like the beautiful architecture of Spain, their own festivities, their music, their dances and the different languages that are spoken in different regions have sparked in me some curiosity.
One specific festivity I learned about Spain when I was in high school is a tradition called "La tomatina". This tradition is original to the city of Bunol in Valencia, Spain. The participants get involved in a tomato fight for pure entertainment. Everyone who participates ends up completely soaked on tomato puree and as one can imagine, the streets of the city end up as a complete mess. I started looking up videos of this festival and saw how much fun people were having. And in reality, not one single country is going to be the same just because they might share a language. There will be many different and unique cultural aspects about a country or countries to learn about and Spain is just one of them.
– Valeria
2.6.2020 - Anye on cultural awareness
Spanish is the second most common spoken language throughout the world. I've chosen to become a Spanish Peer Tutor because I want to be able to study, practice, and expand other students' and my own knowledge of the Spanish language and its diverse culture. Being a Spanish peer tutor is an opportunity to broaden my own knowledge of the Spanish language, to broaden my cultural awareness, to broaden the cultural awareness of others, and to connect with other UIC students in order to continue the narrative of emphasizing the similarities instead of the differences between our cultures.
In my future career, as a clinical psychologist, I could be doing a disservice to those whom I serve without cultural awareness and the ability to communicate effectively. I seek to be of service to as many groups of people as I possibly can regardless of ethnicity, language barriers, cultural barriers, and lifestyle choices. Spanish peer tutoring is one way to do that now at UIC.
– Anye
2.4.2020 - Ariana on the Joys of Italian Grammar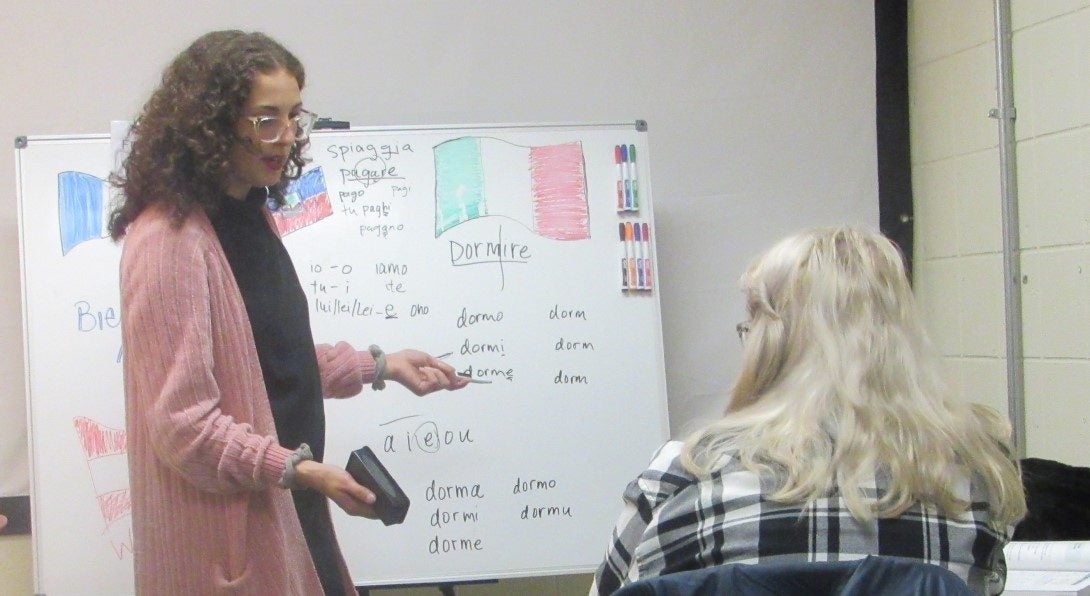 I am now a senior and am currently enrolled in Italian 300: Advanced Italian Literature and Cultural Studies. This week in class we have been reviewing the congiuntivo (subjunctive) and I have been meeting recently with a few 104 students during my tutoring hours who were struggling with this verb tense.
Creating verb charts and memorizing examples for each type of verb ending (-are, -ire, -ere) have been the most successful ways for me to further break down the subjunctive for students. This has also helped me practice with the subjunctive and memorize its specific rules through various explanations. Working with students assists me in learning Italian through helping me learn easier ways of breaking down the language's syntax.
I enjoy learning alongside other Italian students and welcome you to the LCLC for a conversation!
2.3.2020 - Lily, German peer tutor, on German Cinema
While I haven't yet had a German student come to my tutoring hour yet this semester, I've been working on a project that interests me. it's my last year at UIC, so I began to work on my Honors College Capstone. I work with German film and last night, I read a fantastic book on Weimar Cinema and shell-shocked postwar culture. The book is entitled Shell Shock Cinema by Anton Kaes. If  you have any interest in German film, the films released during the Weimar Republic – especially those touched upon in the book, such as The Cabinet of Dr. Caligari and Metropolis, which stands today as one of the most influential sci-fi films of all time – are a fantastic place to start your film analysis journey!
My favorite German film of all time is probably The Cabinet of Dr. Caligari. Released in Germany in 1920 and directed by Robert Wiene, this film tells a "story within a story," as Francis recounts what had happened to him in a sequence that is mainly a flashback with occasional cuts back to Francis. Caligari was a keystone film in the world of German expressionism. The audience is led on a journey where they feel as if they are observing the movie through a peephole, almost as if they were some sort of warden observing their prisoners in their cells. The film combines its use of camera movement (or the lack of it) with its jagged, distorted scenery to instill in the audience the sense that there is no freedom to move. We can only see through the lens that is given to us; we are not allowed outside the world of Caligari.
There's a wide, wide world of German cinema out there. From Caligari, to classic "homeland films" like Sissi, to sci-fi marvels like Metropolis, there is something for every viewer, from the first-time watchers to the long-time film fans. The most interesting thing about German film is how the atmosphere of Germany affected the film's messages; as Germany's cultural climate changed, so did its cinema.
-Lily
1.30.2020 - Natz, French peer tutor, on learning French
Growing up with immigrant parents I was fortunate enough to learn Spanish and English simultaneously since birth. Since I had spoken both these languages for the entirety of my life I became curious about other cultures and given the opportunity I set out to learn French in high school because I knew at some point I wanted to go to France. Since I knew two languages prior to learning French it became easier for me to understand but I still struggled with minor details of the language because learning a new language is difficult. After 3 years of taking French I was able to partake in an exchange program in 2017 through my high school and made a very special connection with my French Exchange Student. Through the 2 weeks she spent at my house I made it my mission to practice my French as much as possible so I could truly benefit from the experience and have extra practice before I went to Figeac and Paris.
While in France, I spoke as much French as I could and took in the different culture because that was the reason I wanted to learn French in the first place. I wanted to push myself to understand another culture and see everything this place had to offer. 3 years later and I am still learning more about the French Culture and I am still in awe of the differences between the cultures I am accustomed to and this culture I have been learning about for the past 6 years.
Through learning French I have pushed myself out of my comfort zone and learned to communicate with others in a language that was not my native tongue. It has also pushed me to look into different study abroad programs so I can continue to push myself to use the language outside of the United States. Ultimately, French has made me look at the world in a different perspective and has made me curious of other world cultures that I can learn from.
-Natz
11.20.2019 - Angela, Italian peer tutor, talks about all the languages in her life
My first exposure to a foreign language was in kindergarten. My parents enrolled me in an Italian class at the school that was right before my kindergarten class. I was very excited and would tell my family what I had learned. Unfortunately, I couldn't keep up with the classes because they moved farther away after that. In middle school, we had 8 weeks of Spanish, French, and German to expose us to the language options we had in high school, and I settled on German because I enjoyed it the most.
Although I loved the language, I didn't continue with it in my first years in college because it didn't fit in with the plan I had. When I started at UIC, I decided to take Italian classes because I remembered about the class I took in kindergarten. I have been interested in traveling abroad for many years, so I took advantage of the study abroad program led by one of the Italian professors in the summer of 2018 and went to Italy.
After the program ended, I decided to travel and explore some other European countries. While in Berlin, I stopped at a pizza place for a late dinner my first night there. Although I had understood the German the waiter used when asking about a table for two, I panicked and responded in Italian. Luckily, the waiter spoke Italian, and the entire service that night was done in Italian. I never thought I would have such a cool experience using the Italian language in a different country. Since this trip, I have tried cooking more Italian dishes at home and looked more into the culture to learn about it. I think it is so interesting to look at other cultures and see the differences there are. I am also looking at different ways I can go back to Italy through programs outside of studying abroad, as well as ways for me to continue practicing the Italian language in Chicago after I graduate.
–Angela
11.6.2019 - First Day On The Job
Today I had my first German client come in! She was concerned about her essay corrections she needed to do for a film review, so we went over each correction individually and worked out not only what it should be, but why it should be. We had her essay corrected after a short 20 minutes; she went off to her next class and expressed that she appreciated the help.
After this, my first experience actually being a tutor and helping someone else, all I can say is I'm exhilarated for the next opportunity I have to work one on one with someone. German is a beautiful, complex language – I once heard it described as "a bit challenging to learn, even more challenging to master." This is true, but it doesn't mean the challenge has to be something painful or dreadful.
Language learning, in my opinion, should be something to be looked forward to. My mindset with German when I was in the BLP was, "I get to go to class today." While I know not everyone will see German, or any other language, as something they get to do versus something they have to do, the more we can usher students towards thinking that learning a new language is something fun, not something they necessarily have to be frustrated about.
Even though I'm done with the German BLP, I continue to take German classes. It's become an important part of my life – it's comforting to me. I know that during the week, I have a class I can look forward to, no matter what else I may be going through. I hope with tutoring, I can help students in the BLP to start looking forward to German. Language can bring joy!
–Lily