02.17.2021 – Samie recommends Como Caído del Cielo
02.17.2021 - Samie recommends Como Caído del Cielo Heading link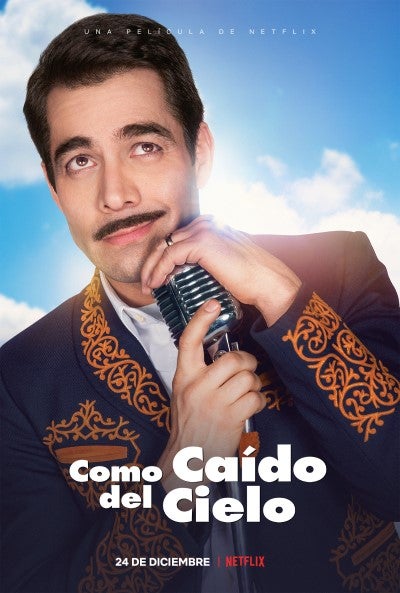 Como Caído del Cielo (As If Fallen From Heaven) is a Netflix movie that is in Spanish (but don't worry there are English subtitles) and it is a comedy that follows one of Mexico's biggest celebrities, Pedro Infante, after he has died. If you don't know who Pedro Infante is, then two important things to know before watching is that Pedro Infante is one of Mexico's biggest musical legends! Infante died at only 39 years old in 1957, but his music has never lost its popularity and can still be heard at weddings. Oh, and he was also known to be a huge womanizer, constantly cheating on his wife.
This movie focuses on those two aspects of his life as the movie begins with Pedro Infante stuck between heaven and hell. He is approached by two men that tell him that his music has brought so much happiness to others, but his mistreatment of women is holding him back from entering heaven. To attempt to make amends, Pedro Infante is switched into Pedro Guadalupe Ramos' body, a man who is in a coma after running into trouble in Tijuana. Pedro Ramos has caused the women in his life a lot of pain and Infante's task is to make things right or he will be rejected from heaven. The film follows Pedro as he tries to make amends with the people that Ramos has hurt and the viewers watch as Infante begins to grow as a person.
I watched this film with my father, who is a huge fan of Pedro Infante, and since the film featured some of Infante's songs, my dad was hit with lots of nostalgia! My dad reminisced about all the mornings that he had woken up to the sound of Pedro Infante's voice as his mother listened to the radio while preparing breakfast. This was a special experience for the both of us and we shared a few laughs as this movie does have its comedic moments. The dialogue can be a little corny sometimes, but the overall movie is very sweet and I definitely recommend it to others. It's a good movie to watch with family members who may be familiar with the legend that is Pedro Infante and if you're not familiar with him, then this is your chance to be enchanted by the voice that is still loved by millions.
This 2019 film was directed by Jose Pepe Bojorquez and features Omar Chaparro, who plays Pedro Infante! Various Infante songs are played throughout the film and this includes "De Qué Me Sirve El Cielo", which I highly recommend!
–Samie
Modified on July 15, 2021