2.22.2021 – Nate reviews a German film, Der Ölprinz (1965)
2.22.2021 - Nate reviews a German film, Der Ölprinz (1965) Heading link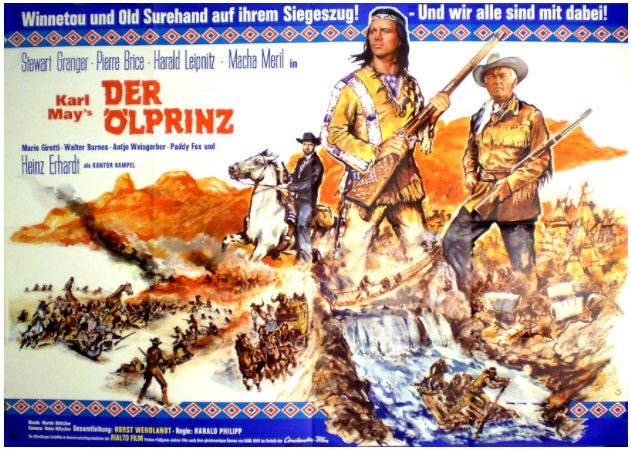 Advanced German speakers looking for a real classic film, "Ein Film mit Herz und Humor" and quite a bit of action–here's one for you! Der Ölprinz (Germany, 1965, directed by German director H. Philipp) is a film full of heart, humor, and its fair share of cowboy action as the critics say. The film stars British actor Stewart Granger as the hero Old Surehand, and French actor Pierre Brice as his faithful Native American assistant, Winnetou. We see German actor Harald Leipnitz shine as our villain, the Oil Prince himself. The film is based on a book with the same name, written by popular German Western tale author Karl May in 1894.
The film begins with an intense opening scene in which the Oil Prince is burning the oil fields of his rival in old Arizona in the 1860's. He and his assistant are able to sneak away and then force the owner to sell his fields at an extremely low price, allowing the Prince to grow closer to holding a monopoly on the area's oil. The Oil Prince and his assistant venture into a nearby town and attempt to con a group of settlers and a tribe of Native Americans into selling their land where oil is supposedly located. However, the game changes when Old Surehand and Winnetou arrive on the scene. This dynamic duo is able to help the Native Americans and settlers retain their homes and to put the Oil Prince behind bars.
Overall, I found this film to be very interesting and fun to watch. There was a very nice mix of dialogue and suspense, with some very nicely filmed action sequences sprinkled in along the way. If you enjoy older western films with actors like John Wayne and Robert Mitchum, you will enjoy this film very much!
I would recommend this film for advanced German speakers, since it's only available without English subtitles. Happy viewing!
–Nate
Modified on July 15, 2021