7.16.2021 Celeste Bakes Homemade Conchas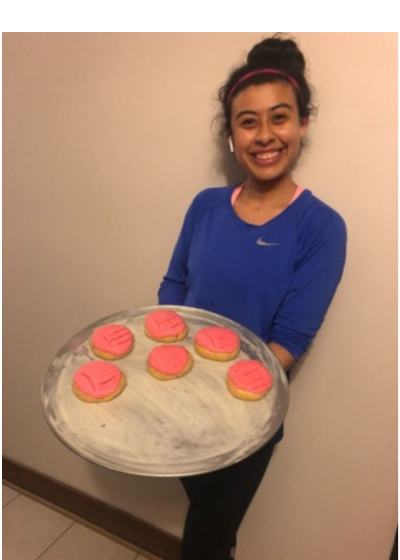 Does the shape of this bread remind you of something? If you guessed a shell you're right! This bread is called Concha which translates to shell, and gets its name from its shell-like form. This famous Mexican pastry is known for its round shape, with a colorful sugary topping. Conchas are made with the simple ingredients of flour, sugar, eggs, milk, and yeast. The sugary topping is made with sugar, butter, flour, and food coloring. The history of Conchas can be traced back to the Spanish conquest of the Aztecs. The Spanish wanted to establish Mexico City into a European population and introduced the special ingredient to make conchas: wheat, the main ingredient of the concha.
Conchas represent more to me than a pastry. Conchas not only represent my culture but my united family. On Sundays my parents buy conchas from our local Mexican bakery. We eat our conchas with a warm cup of coffee early in the morning to start our day. This time together lets us reflect on how grateful we are to be healthy and together. Conchas for me means family and love. While making conchas for the first time I realized how much love, patience, and peace it takes to make conchas. My family was very excited and could not wait to try my homemade conchas when I told them I would be challenging myself to baking conchas. My homemade conchas turned out amazing, although they were a bit hard with a cup of coffee they were perfect!
Bread Ingredients:
Four cups of flour
¾ cups sugar
8 tablespoons of unsalted butter(room temperature)
One egg beaten
One tablespoon of vanilla extract
One tablespoon of cinnamon
Half a tablespoon of salt
One tablespoon of instant yeast
One cup of evaporated milk
Sugar topping ingredients:
¾ of a cup of flour
7 tablespoon of unsalted butter(room temperature)
¾ cup of powdered sugar
One tablespoon of vanilla extract
Food coloring
The recipe:
First, we are going to start by making the bread out of the concha. You must melt 8 tablespoons of unsalted butter and warm up the cup of evaporated milk. Once this is ready we can start mixing the ingredients together. Using a big bowl or your countertop you are going to mix all the dry ingredients including flour, sugar, cinnamon, yeast, and mix! Next, we are going to incorporate our wet ingredients including our egg, melted butter, and vanilla. Little by little, we are going to add our cup of evaporated milk. The trick while incorporating all of these ingredients together is to mix very well. These ingredients will turn into a dough which will be ready when it does not stick to the countertop. When the dough is ready we will put a plastic wrap over it and let the dough rise. This will take 30 mins- 2 hours.
While we wait for our dough to rise we can start making the sugar topping. First, we are going to add our 7 tablespoons of unsalted butter and mix it with our flour and vanilla. We will mix this together until we have a nice paste. Finally, we will add food coloring to give it some color!
Once the dough has risen we will grease the pan so the dough does not burn. You will make balls from the dough and place them in the pan. In order to make the sugar toppings, you will make a ball and slap it back and forth between your palms. Place the colorful topping on the bread and make designs, be creative! Finally, you will let the conchas rise for another hour. Once another hour has passed they are ready to be put in the oven! For 18-20 mins in 350 degrees. Once your conchas start turning brown around the edges they are ready to enjoy with a cup of milk or coffee! Happy baking!
Youtube video of how to make conchas:
https://www.youtube.com/watch?v=Dn_H5Lwi-vk
https://www.youtube.com/watch?v=Buxp03XI2Mw
Some bakeries you can find conchas in Chicago are:
Rosy's Bakery: 3237 W 26th St
Panaderia Nuevo Leon:1634 W 18th St
Markellos Baking Company: 3520 W Lawrence Ave
-Celeste
Modified on July 16, 2021