3.28.2023: Spanish Peer Tutor Lisset writes about award-winning Queso Cotija cheese and Cotija de la Paz, Michoacan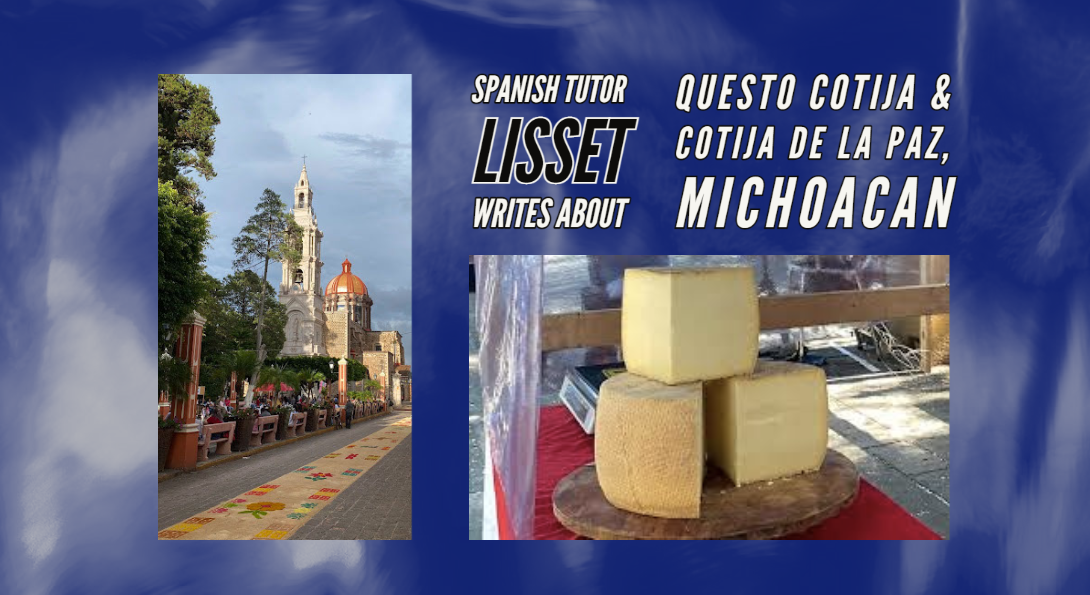 Spanish Peer Tutor Lisset writes about award-winning Queso Cotija cheese and Cotija de la Paz, Michoacan Heading link
Have you ever heard of cotija cheese while ordering at a Mexican restaurant, or in the dairy section at the grocery store? Have you ever tasted it? Perhaps on a tostada, soup, or elote? Those who have tasted it know that it is a staple in many Mexican restaurants and dishes. I am proud to say that my hometown Cotija de la Paz, Michoacan, Mexico is known for its delicious cheese and has even made headlines. In 2006, queso cotija was named the best foreign cheese in one of the most prestigious world cheese championships in Cremona, Italy. It beat over 500 other cheeses in this competition, further recognizing its impact on an international level. (1)
This cylindrical block of cheese is found in many different sizes. In my hometown, you can buy an entire block, by the gram, or simply by the slice. Here in the U.S., you can find it packaged at many grocery stores. You can eat it in small slices or crumble it onto your favorite dish. While to some this cheese has a salty and zesty taste, similar to parmesan cheese, to others the smell is too potent. Many people say the cheese smells like feet. While I do agree that it has a strong smell, the taste is definitely very different and unique to any other cheese I have ever tasted.
Cotija de la Paz, Michoacan is famous for its cheese and other gastronomy, and it is a great place to visit (2). It is located about 2 hours south of Guadalajara, Jalisco. While it is a small town, with a population of about 15,000, it is a very welcoming town full of many events and places to visit. For example, the nearby lake of San Juanico, the museums, and the Casa Cultural where many events and workshops are held. The plaza is also a great place to sit on the benches to relax and have an ice cream, agua fresca, or fruit. I personally recommend going to La Casa del Portal or Novo, which are great places to dine at at night. I also recommend going to the Cerrito Calabazo, which is the municipal park, where you can play basketball, volleyball, soccer or in the playgrounds.
While it is true that you can find Cotija cheese in supermarkets and grocery stores here in Chicago, the authentic taste is indescribable. I encourage you to try it next time you see it on a menu or at the grocery store. My family likes to buy the brand La Chona or V&V Supremo. If you are ever looking for a place to visit, Cotija de La Paz is a beautiful place!
(1) https://www.jornada.com.mx/2006/11/14/index.php?section=estados&article=037n3est#:~:text=El%20queso%20cotija%20fue%20reconocido,la%20leche%20en%20Cremona%2C%20Italia
(2) https://www.citypopulation.de/en/mexico/michoacan/16019__cotija/