11.3.2022: French Peer Tutor Ari reviews the film Breathless by Jean-Luc Godard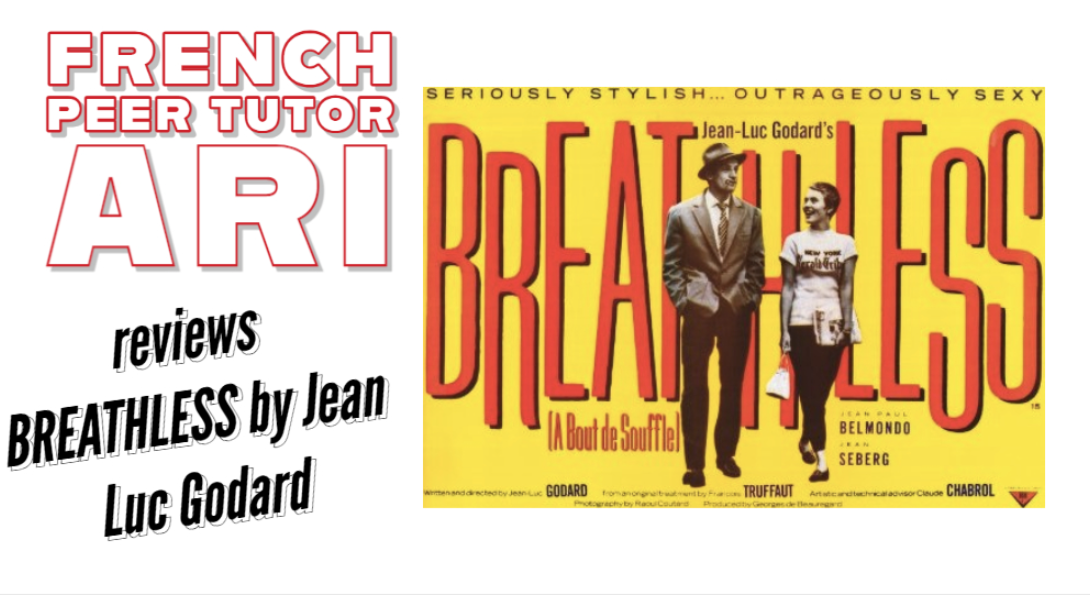 French Peer Tutor Ari reviews BREATHLESS (1960)
French Peer Tutor Ari reviews the film Breathless (1960) Heading link
Humorous, captivating, provocative, and breathtaking, these are a few words that can describe the film that is Jean-Luc Godard's finest work À bout de souffle / Breathless (1960). Breathless was a French film that was directed  by French Director Jean-Luc Godard. I was initially inspired to make a film review on Breathless because of Godard's tragic passing, on September 13th, 2022. Jean-Luc Godard started off his career as a film critic and started his transition into directing with À bout de souffle in 1960. His first feature-length film captivated French audiences, who were still used to cookie-cutter scenery, well-known actors, and stable camera work. Jean-Luc Godard was a pioneer in what the French press would later call "La Nouvelle Vague" – French New Wave.
Throughout his career, Jean-Luc Godard was at the forefront of the fall of French silver age cinema and a renaissance of film as an art form. In his films, Godard incorporated several elements of his radical politics. Some of his films were banned from being shown in theaters, like Le Petit Soldat, which was banned in France for three years because it depicted the French government's callous treatment of Algerian military forces. It is important when watching films to analyze the many different factors that went into making the film, such as the actors, the dialogue, the film work, the directors, etc. This is how we honor the legacy of the people who collaborated towards producing films.
In À bout de souffle, we follow a fugitive thief, who after stealing a couple of cars, impulsively kills a patrol officer. Michel, the thief, is now wanted for murder. Michel plans to flee to Italy but with little money, he needs to retrieve his loan from his friend Antonio and meet up with the woman he is involved with, an American student named Patricia. Patricia and Michel engage in a tumultuous relationship where they travel through Paris trying to avoid being arrested. Michel and Patricia's relationship is the highlight of this movie. Michel's main motivation throughout the movie is to convince Patricia to run away to Italy with him. Amidst this, Patricia reveals she is pregnant with Michel's child and rides on the border of fleeing with her lover to Italy or continuing her studies in Paris.  Their continuous push-and-pull dynamic makes for a very interesting plot.
In order to recognize why À bout de souffle was such an important film, we have to look at the filming techniques that distinguished it from other films released during the same time period. The camera work is truly unique, the most notable aspect is the implementation of long shots. Long shots are essentially a scene that is filmed from a distance from the actors so that the perspective may be that of a random passerby. This allows the film to appear as a casual approach and seem to portray a raw moment, whereas other films during this time would have stable camerawork. Think of movies like Cleopatra, where the shots are close up and stable, so that in the final product the media looks clean and professional.
The film also uses extreme close-ups, for example, when Michel is looking into Patricia's eyes, this puts the viewer in a first-person perspective, so that they can truly experience what the characters are feeling.
The soundtrack also does a phenomenal job of setting the mood of the film. The main track used during the film is "New York Herald Tribune," a classical jazz album composed by Martial Solal. It's difficult to describe the feelings the soundtrack invoked in me. I found myself feeling strangely nostalgic, though I had never heard the music before. The song is played during Michel's best and worst moments. As a viewer, I feel that the music does an excellent job of portraying the actor's emotions.
The actors' performance ties together the magic that is À bout de souffle. When asked why Jean-Luc Godard didn't hire well known actors for the film, he said "Because I can't find any good known ones… Actors today just imitate other actors" (New York Times: "Jean-Luc Godard: An Enfant Terrible at 70"). Both leading roles in the film were relatively unknown actors: Jean-Paul Belmondo and Jean Seberg. Their awkwardness and inexperience reads as relatability in the film. These are not polished or perfectly sculpted actors. Their hair is messy, Patricia's makeup looks faded, and Michel's pants look one size too big, all these attributes are what make them feel realistic. The characters feel like real people and this allows the audience to feel all their triumphs and failures alongside them.
Overall, À bout de souffle is a classic film that I feel everyone should watch at some point in their lives. Its dry humor and transitions make it easy for audiences with low attention spans to watch, making it suitable for young adults and older generations alike. The film follows two lovers, so there is some mention of sex and mild nudity, but mild in comparison to today's standards. If you wish to watch À bout de souffle, you can do so through Kanopy using your UIC login or free on YouTube. Make sure to check out Jean-Luc Godard's other films, like Vivre sa Vie or Weekend, which are also available on Kanopy with English captions.
https://www.nytimes.com/2001/10/02/college/jeanluc-godard-an-enfant-terrible-at-70.html
https://youtu.be/K8P-emuZOjs
Modified on March 13, 2023