5.4.2022: French Peer Tutor Susy discusses "À bout de souffle"
French Peer Tutor Susy discusses "À bout de souffle" Heading link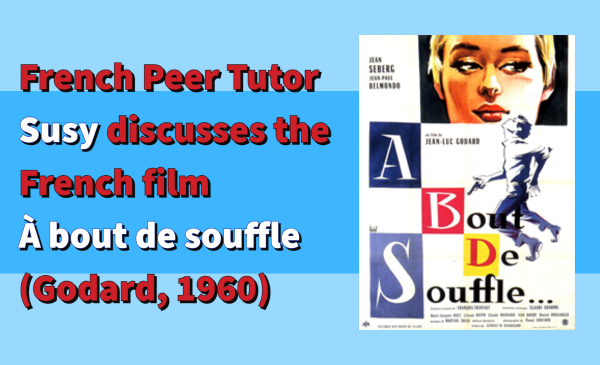 Stream "À bout de souffle" for free using your student email on Kanopy, in French with English subtitles.
"How could a movie be filmed in an ambulance?" These were the words spoken by my cousin; she was confused as her sister told her about the plot of a new movie that just came out. Throughout her analysis, she kept saying that she could not watch in peace because the camera kept moving. I laughed at this and instantly thought of the iconic car scene in "À bout de souffle" – where the director, Jean-Luc Godard uses jump cuts (abrupt cuts to the next shot of a person) and a hand-held camera to film the scene; these techniques became a staple in the revolutionary Nouvelle Vague (New Wave) of filmmaking in the 1960s. These techniques were so popular that cinematographers are still using them today; just like in the 2022 film "Ambulance," referenced above.
After watching the movie, I started to reflect on the meaning behind these jump cuts; it could not just be an extraordinary film technique. Perhaps these cuts parallel Michel and Patricia's (the protagonists) imperfect relationship, or their individual feelings of being "broken." Maybe the cuts aim to mimic Michel's constant escape from the police (he shoots someone in the beginning); a never ending battle that leaves you wondering "isn't he out of breath?" I think it's both.
Throughout the film, the audience witnesses the contrast between Michel and Patricia and we're left trying to figure how their relationship works. She, who's a kind-hearted, yet willful and intelligent reporter from the U.S., and he, an arrogant, bold, and carefree French fugitive. On the surface, both characters seem to have their life together, but after emotional and deep questions about life on Patricia's end, and ever more surprising responses on Michel's part, we realize that they're both in a constant struggle to feel and find their purpose in life.
Overall, I enjoyed this movie. The cinematography and the mysterious and comedic (at times) musical score echoed the dynamic plot of the movie and made it entertaining. Additionally, it was fun to try to analyze the film in more depth. I still haven't figured out if I'm content with this short review, but perhaps after watching it a second time, I'll get more ideas.
Amusez-vous bien! 🙂
-Susy
Modified on May 04, 2022