3.1.2021 – Megan recommends the film Adú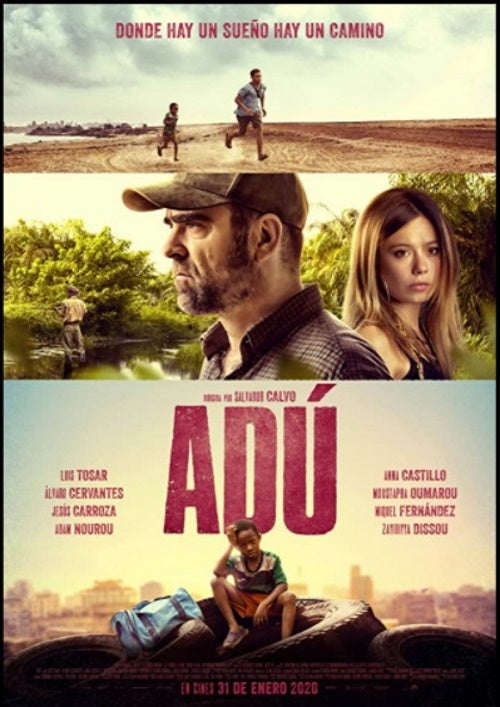 French and Spanish students, check out Adú on Netflix: the dialogue is in both Spanish and French! Directed by Salvador Calvo (Spain, 2020), and inspired by real life events, the film tells the story of a 6-year-old boy named Adú who eventually has to end up emigrating from Cameroon to Spain, and two other intertwined stories of an animal activist and his daughter from Spain, as well as an immigration officer. This movie explores real life issues of refugees and what they have to go through, through the lens of Adú.
Adú, originally from Cameroon, eventually ends up emigrating to Spain with the help of his friend Massar. They choose Spain because Adú needed to get to where his father was since his mother was murdered by poachers. They experience some really traumatic and dangerous moments to survive and get to Spain. Adú, originally with his sister who later died, snuck at the bottom of an unsafe area of the plane to get to Spain, and even at one point with Massar, swam in the dark at night with only a car tire and rope for a raft to get to Spain from Morocco.
I remember during those moments, being shocked at how easily these children can take on these traumatic and dangerous journeys like it was nothing, but I realized that was their only shot at life and their only option was to keep on moving forward. A lot of the film brought up certain viewpoints, touched on the brutality that immigration officers can inflict on refugees, and on the privilege that many tourists unknowingly have.
Adú is a much-needed film about the trauma many African refugees have to experience to get to Spain or just a better home in general. This movie was hard to watch at some points, but I felt it was necessary to watch it, because knowing about what problems there are around the world helps to broaden our world perspective. The story makes viewers more aware of issues that are going on around the world, and allows us to put our own life into perspective, compared to those who are not as privileged as we are. It's important to know there are things bigger than ourselves, and I think this movie is good for that.
I hope some French and Spanish students will check it out!
–Megan
Modified on July 15, 2021