2.23.2021 – Valeria on a fun, cultural performance
2.23.2021 - Valeria on a fun, cultural performance Heading link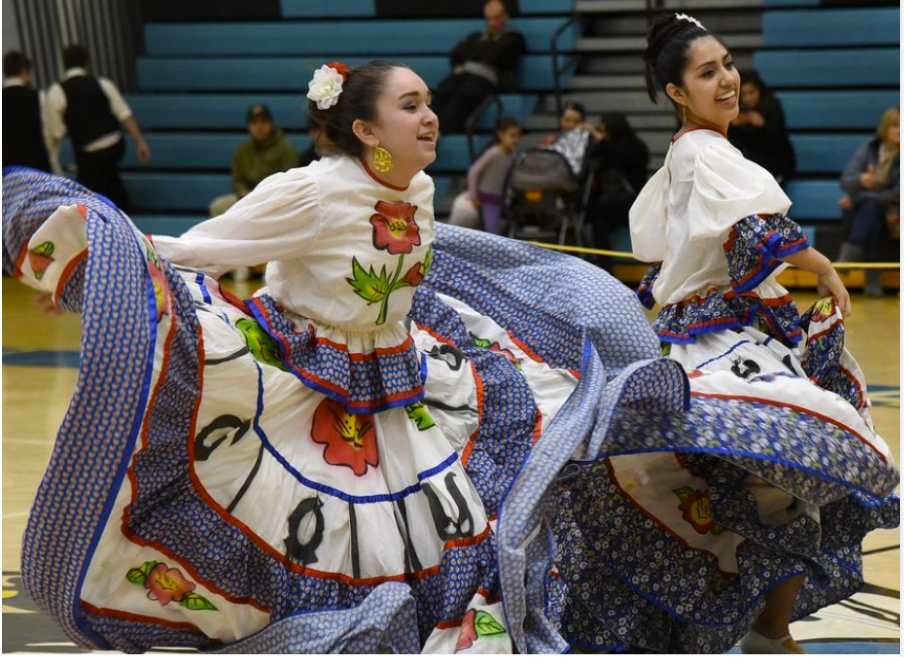 Growing up in a Mexican household in Zacatecas, Mexico, I was always surrounded by all sorts of music, particularly the very varied styles of folk music from all around Mexico. My municipality and even the state, would hold multiple cultural events throughout the year in which different folklore dance groups would showcase their dances from all regions of the country, along with their corresponding traditional attire. I grew up attending a lot of these showcases and I always thought of how fun it would be to dress up in beautiful colorful dresses and wear such amazing makeup and cool hairstyles with ribbons and flowers.
Upon moving to Chicago, I never thought I'd see these types of performances and showcases again. Through Zaira, my friend from school, I learned that there were groups and organizations that performed these dances in various community events and that she was part of one. I was quite shy and hesitant to join at first, and in fact, because of personal reasons, never did. However, on one occasion, our high school district held an International Celebration that celebrated the diversity in our schools. Members of cultural clubs like the one we belonged to (Hispanic Club) were asked to provide a "taste" of that culture to the community. Our club decided to perform a traditional dance from Sinaloa, Mexico. However, only my friend and I were willing to participate in the dance and had to do it from scratch. We only had two weeks to choreograph it and practice before the performance day. We practiced every single day. I've always liked dancing, but it was a completely new and different experience (and may I also say quite hard) to finally get to participate in a traditional Mexican dance performance, just like I had always wanted to. The day finally came to perform in front of many of the members of our community: neighbors, peers, friends and families. When it was our turn to perform, I was beyond nervous being that we had so little time to prepare. Our club sponsor told us not to worry, as having fun and representing our culture and our roots should be the number one priority.
Here is a video of how our performance went that day.
"El niño perdido y el toro mambo" Zaira and Valeria dancing during the International Celebration.  
P.S. As you can see, the dance wasn't quite polished but we had so much fun!
–Valeria
Modified on July 15, 2021