11.30.2022: German Peer Tutor Alex Writes about the Love Parade in Berlin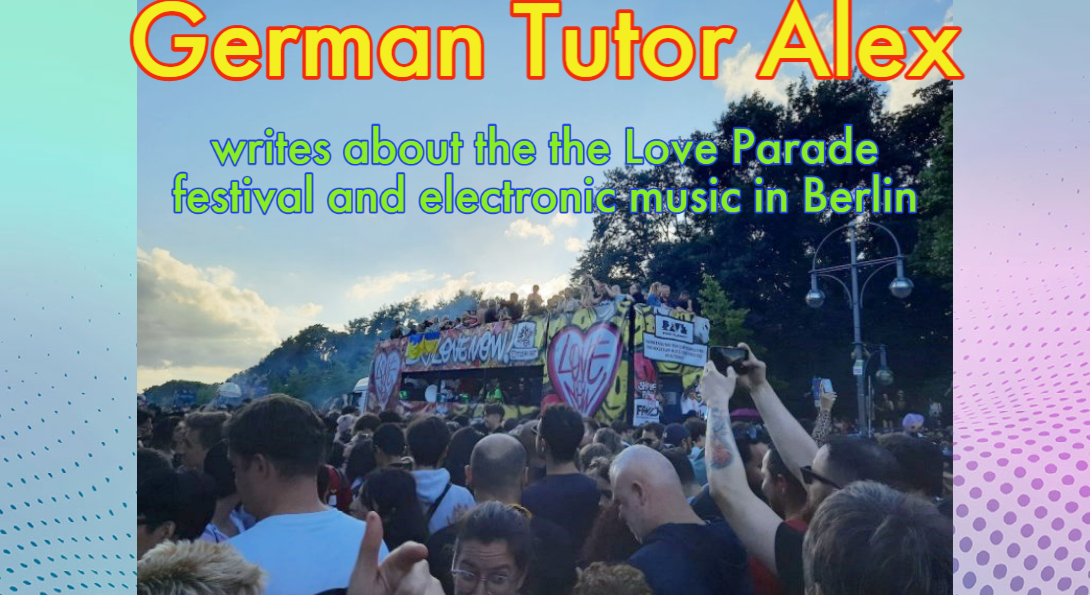 German Peer Tutor Alex Writes about the Love Parade in Berlin Heading link
While I was in Berlin this summer, I was blessed to be one of the 200,000 people that attended the Love Parade, a large techno parade that traveled through the streets. Prior to this parade, I had never sought out techno music, but I had heard that this parade was happening and it was apparently a big deal. So, I did some research to find out why everyone was telling me I needed to go.
The Love Parade is an event put on by Rave the Planet, an organization looking to deepen understanding and increase public acceptance of electronic music culture. The Love Parade in 2022 aimed to bring attention to Rave the Planet's dream of bringing techno music to the mainstream. But, this was not the first time the parade was put on. In July of 1989, a parade of 150 people took place in West Berlin. An underground techno DJ, Dr. Motte, was celebrating his birthday with a larger theme "Peace, Joy, and Pancakes". It was a quasi-political demonstration demanding disarmament, music, and fair food distribution. The parade and celebration continued to get bigger every year, so in 1997 it had to be moved to Tiergarten, a massive park in the middle of Berlin.
The parade consists of floats that have DJs mixing music and blasting music from large speakers. In 2001, the music was so loud that it was heard by animals in the Berlin Zoo, about 1.8 km away, and gave some of them digestion issues. The last Love Parade in Berlin was in 2006. The parade was put on in different cities across the world. In 2010, the parade was canceled completely (until 2022) because of a deadly crush at the parade in Duisburg, Germany.
In 2022, Rave the Planet wanted to do something big to bring more people to their cause, so Love Parade was restarted. I had never witnessed such an event in my life before. It was so cool. There were definitely some shenanigans, people climbing light poles, lots of litter, and the occasional person who obviously had drunk a little too much. But it was mostly people enjoying their time dancing and listening to the music. People would crowd around the floats and dance rhythmically together to the point where they seemed to be all part of a well oiled machine. Dancing to techno is mostly below the belt and mechanical. People rarely touch one another and try to give people enough room to move freely.
German techno comes from house and disco music from the United States. These genres are influenced by the overall genre of electronic music pioneered by Kraftwerk, a German group whose music was shaped in turn by robotic sounds inspired by music coming from Detroit by the Stooges, MC5, and Berry Gordon's Motown record label. After Kraftwerk released their first big hit Autobahn, it was shared on the radio and in clubs in Detroit and New York City, making the song a giant hit. Americans resonated with the futuristic sounds, looking for hope and new beginnings after the auto industry crash in the 1970s. American and German techno music continue to inspire each other to this day. Some German techno and electronic music groups that are worth a listen are: Zombie Nation, Booka Shade, Boys Noize, and Ellen Allein.
Rave the Planet is seeking a UNESCO Intangible Cultural Heritage designation for Berlin techno culture. UNESCO considers cultural heritage as "an important factor in maintaining cultural diversity in the face of growing globalization" (What Is Intangible Cultural Heritage?, 2022). To receive designation, it must display traditions inherited from the past that still thrive today, inclusive to all, representative of the community it comes from, and recognized by the community it comes from. If Berlin's techno culture became designated as cultural heritage, Germany would have to follow regulations by UNESCO that aid the preservation of the culture. Germany would have to define and inventory cultural heritage with help of leaders in the Berlin techno scene, like the leaders of Rave the Planet. Germany would also be required to adopt policies and institutions that monitor, promote, and research the culture. Funding will also be given to Germany to safeguard the culture. Berlin's techno scene was hurt badly by the pandemic because of the lockdowns which caused music venues to close for long periods of time. So, this designation would help ensure the electronic music culture in Berlin is protected and preserved.
References:
Barnes, M. (2020, May 25). From Germany to Detroit and back: How Kraftwerk forged an industrial exchange. The Guardian. https://www.theguardian.com/music/2020/may/25/from-germany-to-detroit-and-back-how-kraftwerk-forged-an-industrial-exchange
Borneman, & Senders, S. (2000). Politics without a Head: Is the "Love Parade" a New Form of Political Identification? Cultural Anthropology, 15(2), 294–317. https://doi.org/10.1525/can.2000.15.2.294
What is Intangible Cultural Heritage? (2022). UNESCO. https://ich.unesco.org/en/what-is-intangible-heritage-00003
Modified on March 13, 2023