2.19.2021 – Nikki on Naperville's Paris Bistro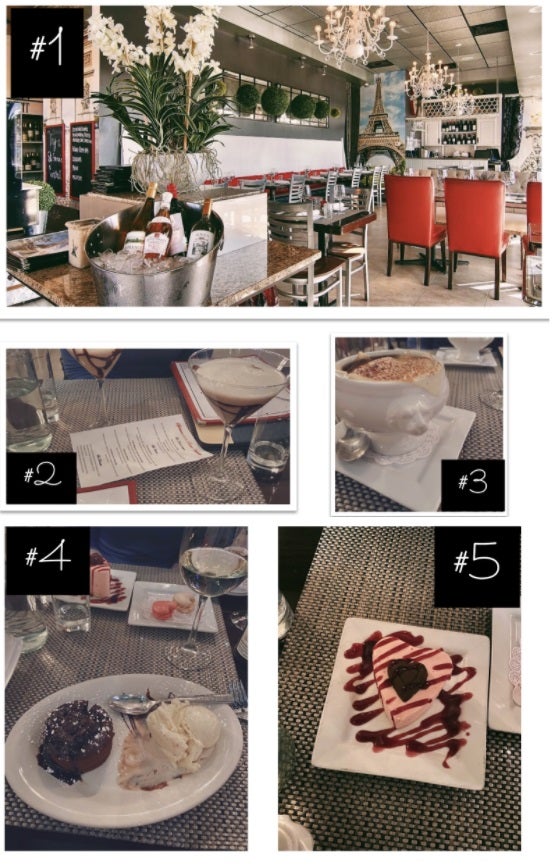 Surprise! Another blog about French food! However, this time I am paying others to do the baking. Last Friday happened to be payday in addition to the commencement of Valentine's weekend. Therefore it was my civil duty to try all the desserts and spend my entire paycheck (for research) at Paris Bistro, a little French restaurant tucked away in Naperville. I called early Friday morning to make a reservation for later that night. Masks of course are required for entry and when you are not eating or drinking.
The restaurant itself is small and intimate with low lighting in the evening that's perfect for a date night or a girls' night out (see image #1). I would recommend going in the evening after sunset when the atmosphere feels more authentically French as opposed to during daylight when it just feels like you're in a Naperville-esque restaurant. A large selection of French appetizers (les entrées), entrées/main courses (les plats principaux) and desserts (les desserts) grace the menu including some of my favorites like steak-frites (steak and French fries) and the croque madame (a grilled ham and cheese sandwich topped with an egg). However, prices are a little steep for a student like moi so I had some French onion soup and a hearty selection of drinks and desserts.
I started with a chocolate martini (because why not? image #2) and was not disappointed, however I'm a little biased towards anything and everything chocolate. Anyways-starting with dessert is a way of life, a religion if you will, and I am devout. After the chocolate martinis, we inhaled the French onion soup topped with melted cheesy goodness and picked a white wine to try (I am aware that the order in which we ate was completely illogical). The waitress then handed me the desserts menu (mistake) and I just about ordered everything (note to self: pay day is a dangerous day): lava cake with vanilla bean gelato (image #4), heart-shaped strawberry gelato (image #5), heart-shaped macarons (towards the back of image #4), and espresso shots. The lava cake was good, but the GELATO! The vanilla gelato alone was worth the trip and the bill (notice how it's pulled closest to my side of the table because I became territorial). Also, I'm sad to say that these macarons were better than the ones I made last semester. The shells were perfect- crunchy on the outside and smooth and slightly chewy on the inside with just the right amount of filling. The espresso was nice and smooth, though it was not a good idea at 9pm.
Overall, I loved the ambience of Paris Bistro and I am quite literally in love with the vanilla gelato. Will be returning this week to buy a sleeve of macarons- and while I'm there, I might as well sit down for some dessert (it'd be the morally right thing to do).
–Nikki
Modified on July 15, 2021