4.30.2021 – Mautise reviews the horror film The Binding
4.30.2021 - Mautise reviews the horror film The Binding Heading link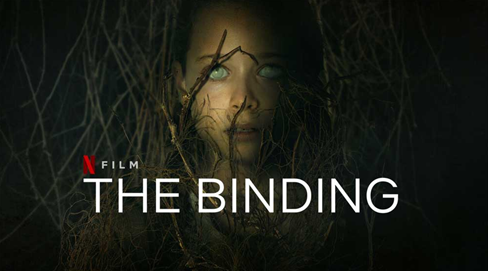 I must begin by saying I am a horror movie fanatic. At one point, I thought I had watched all the horror movies that were on Netflix. However, that is not true, I only watched all the "good" ones.
Peer tutoring professional development has allowed me to keep doing what I love while incorporating the language I love into it. When I do not have a student, I simply watch a horror movie in French. This is something that I am going to take with me beyond peer tutoring. I watch films and series all the time but I spend little to no time developing my French skills outside of class. Since I watch films/series so often, it only makes sense that I watch a film or a series in  French  every so often; as it will help me improve on my French skills and I'll still be able to watch what I want. WIN WIN!!
The latest horror movie I've watched is called "The Binding."
It's an Italian Horror movie on Netflix. This is a movie that I normally would not watch, simply because the description was not very appealing to me, however, my friend chose the film and I promised her I would watch it, so I did.
The film is offered in English, French, German, Spanish, and of course Italian. I watched "The Binding" in French with English subtitles so that I could practice my French listening skills and if there were words or phrases that I did not understand, then I had the subtitles to translate.
The film circles around newly wed couple, Francesco and Emma, with their daughter, Sophia, who goes to visit the husband's mother, Teresa. Teresa lives in a house that is practically in the middle of nowhere. Emma is very suspicious of Teresa and feels like something just is not right. Her suspicions are soon confirmed as after the first night, strange things start happening to Sophia, after she was bitten by a spider. Throughout their stay, Sophia's comes down with a mysterious illness. Sophia had difficulty breathing, uncontrollable itching, and a high fever. Sophia's illness was believed to be caused by the spider's bite but after a visit to the doctor, it became apparent that was not the case. As Sophia's condition grows dire it becomes apparent that  a malevolent force was at work. Terasa realizes that a curse has been placed on Sophia but by who? And why? Emma refuses to believe Terasa. She decides to take Sophia and leaves but that too proved to be a mistake. As Emma wakes up having been in a car accident with  Sophia nowhere to be found. Can Emma find her daughter and save her life before it is too late?
Watch the movie and you shall find out!!
Have you seen "The Binding?" If not I would recommend watching it, especially if you love jump scares. If you have seen the film, I would love to discuss the film and hear your opinion on it.
–Mautise
Modified on July 15, 2021