6.9.2021 – Susy's Music Mix: Sharing our love for languages through music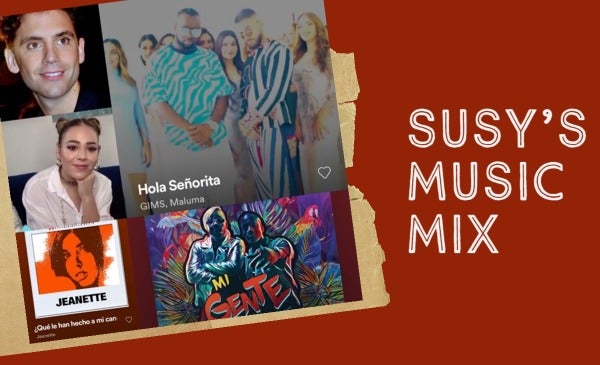 Today, as I was doing my daily "quehacer" (chores), I was in the mood to throw it back to jams from my parents' era. I chose a playlist by "Jeanette," a Spanish pop singer from the 70's/80's. As I listened to her, I suddenly became aware that Jeanette was singing in English and in French, so I got excited. The song that was playing was called, ¿Qué le han hecho a mi canción, mamá?" ("Look what they've done to my song, ma") and only contained one French lyric. Nonetheless, this was enough to make me appreciate my knowledge of languages more and made me realize that people like Jeanette and I can share our love for languages through music.
I'd like to express my gratitude for knowing more than one language. Because my family comes from Mexico, I am lucky to be bilingual in Spanish and English. Furthermore, I've been learning French since I was twelve years old and plan to be a French and Spanish teacher in the future. I'm so grateful that my parents insisted on speaking only in Spanish to me growing up because now I can bond more with them by singing along to their favorite songs, like the ones by Jeanette. In general, I love listening to music in all three languages, especially when I hear a song that incorporates two or even three of these languages since I get a sense of satisfaction when I know what they're saying.
Through this reflection, I also began to think about how there is a certain quality in Spanish and French in particular that captivates the music industry. Recently, artists have joined forces and brought their cultures and languages together to create massive hits. For example, I am sure we are all familiar with Colombian  reggaetonero, J Balvin and his 2017 hit, "Mi Gente," which features French DJ, Willy William. Even though Willy William only sings one French lyric in the song, "Il faut bouger la tête" (you gotta move your head) French speakers/learners like myself are content that they can understand that one line. Furthermore, native French and Spanish speakers feel prideful that their language is included in such a popular industry. More importantly however, the Latin influence shines through the reggaetón genre itself and I'm in awe at how Latinx singers have influenced the music world internationally. I know I am incredibly proud to hear Spanish songs on English-speaking radio stations. Another well-known Latin artist, Maluma, collaborated with famous French rapper Maitre Gims in 2018 on "Hola Señorita." Lastly, an up-and-coming Mexican singer/actress (my personal favorite when I was younger), Danna Paola, released a song called "Me, Myself," last year with Mika, a British singer who sings in French too. Although Danna and Mika only sing in Spanish and English in their song, it is still pretty amazing to witness this celebration of cultures.
When we're bilingual or trilingual, we don't listen to songs simply because we like the rhythm and beat; now, we get to dive into and actually appreciate the words. Lastly, I encourage my fellow UIC students to continue to learn a second or even third language and immerse themselves in the culture. Once you get to the level where you understand what an artist is saying in a foreign language, the feeling of pride you will feel inside is irreplaceable. Plus, what better way to share your love for French, Spanish, Italian, etc. than through the universal language of music.
I hope you enjoy the songs that I mentioned as much as I did!
-Susy 🙂
Check them out down below:
Modified on July 14, 2021