10.21.2020 – Nikki's tips on baking vanilla macarons
10.21.2020 - Nikki's tips on baking vanilla macarons Heading link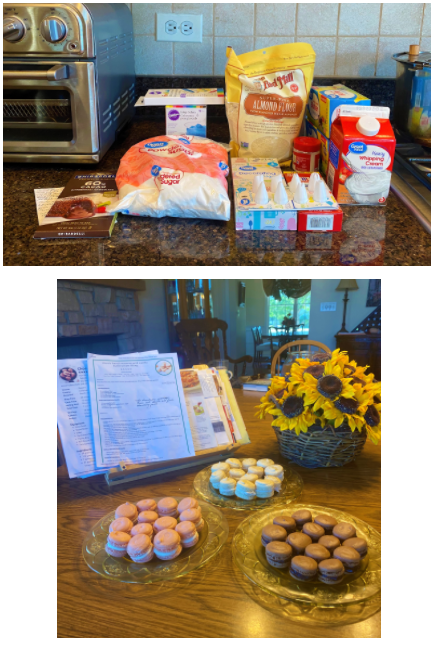 Even though this year has not been ideal, the persistence of remote learning this semester enables us to continue onward in the kitchen. For most of my blog posts last term, I rekindled the spirit of Julia Child and prepared some recipes from her famous cookbook, Mastering the Art of French Cooking. This semester I thought it would be fun to bake a few staples of French culture (I'm obligated to after having watched 3 seasons of The Next Great Baker this past summer).
Whereas the French national motto is liberty, equality, and fraternity, their culinary motto is more like cheese, bread, and cookies. A type of cookie that the French are famous for is the macaron, a meringue-based sandwich cookie that can be made in an assortment of flavors. Now don't get it twisted with a macaroon, which is that small coconut cookie that looks delectable but is, in my opinion, regrettable and ultimately inferior to the macaron. However, the history of the macaron is actually a bit disappointing; It is believed that macarons actually originated in 8th century Italy where they were also known as "priests' belly buttons" (we won't dwell on this image). Anyway, one Saturday morning I decided to make three types of macarons. I understand now that my ambition clouded my judgement, especially considering I never made a macaron in my life. I found recipes for chocolate, vanilla, and strawberry online.
For the sake of concision and simplicity, I will outline the vanilla macaron recipe. This is a good gateway recipe to all things macaron. Once you've mastered this one, you can level up to fancier macarons.
For vanilla macarons make sure you have the following ingredients:
For the Macaron Shells:
¾ cup almond flour, sifted
1 cup confectioners' (powdered) sugar
2 large egg whites at room temperature
¼ cup granulated sugar
½ tsp pure vanilla extract
For the Buttercream Filling:
¼ cup unsalted butter
¾ cup + 2 Tb confectioners' sugar
1 tsp milk
½ tsp pure vanilla extract
A few notes regarding the ingredients:
– This cookie is all vanilla, so if you can, make sure to use pure vanilla extract as opposed to artificial vanilla flavoring. There are few ingredients in this cookie so the difference may be noticeable.
– It is VERY IMPORTANT that your egg whites are at room temperature! Prepare your egg whites in a bowl a few hours before you plan on making the cookies to ensure this. Many macaron recipes will even want you to age your egg whites overnight in the fridge, but this is unnecessary for this recipe.
– Almond flour is naturally clumpy. Sift your almond flour thoroughly to avoid lumpy macarons (I was a culprit of this).
Onward with the cookies!
Instructions for Macaron Shells:
1. In a bowl, combine the almond flour and confectioners' sugar and whisk. Sift the entire mixture and press on clumps.
2. In another bowl, use a hand or stand mixer on medium speed to beat the egg whites until soft peaks form (about 2 minutes). Add the granulated sugar and beat on high until harder/glossy peaks form (about 2 more minutes).
3. Add the vanilla extract and continue beating for 30 seconds.
4. Fold in the dry ingredients, gently*. The mixture should have the consistency of lava with no visible dry ingredients left.
5. Fit a pastry bag with a ½ inch tip. OR-cut the tip off of a ziploc bag and use this as a makeshift pastry bag!
6. Prepare two baking sheets with parchment paper and pipe the batter into ¾-inch rounds**.
7. At this point, there could be air bubbles in the shells. Lightly tap the baking sheets against the counter to release the air.
8. Let the shells stand at room temperature for about 30 minutes so they can form a skin. This is so that you end up with cookies that are crunchy on the outside and soft on the inside.
9. Preheat the oven to 325°F and bake the cookies for 10-12 minutes. Rotate them halfway.
10. Let cool for 5 minutes and transfer to a wire rack until completely cool.
While the cookies are cooling, prepare the filling.
Instructions for the Buttercream Filling (the love of my life):
1. Use a hand mixer to cream the butter until smooth
2. Add the confectioners' sugar, milk, and vanilla extract and mix and light, fluffy, delicious, and a bit dangerous (kidding).
Make the Macarons!
1. Once the macarons are cooled and you have the buttercream ready, prepare a piping bag with a tip/ziploc bag with some buttercream filling.
2. Pipe a swirl of filling on half the shells.
3. Sandwich the buttercream with the other half of the shells.
Voilà!
*If you are too aggressive and overfold, the macarons will be runny and lose shape.
**For help with piping the shells, try watching the following video: "How to pipe macarons"
I definitely do not recommend attempting three kinds of macarons in one sitting as I did. I started at 9:00am and wasn't eating them until 3:00pm. The chocolate macarons were my personal favorite, but then again I'm also a diagnosed chocoholic. If you are only interested in flavored macarons, the cool thing about this recipe is that you can just add any flavor you want! Try adding some strawberry/lemon/mint extract or melted baker's chocolate to your shell mixture. This recipe is great because it's basic but also personalizable.
Happy baking and bon appétit !
– Nikki
Modified on July 15, 2021