9.23.2022: Alex's Summer Trip to Germany (Part 2)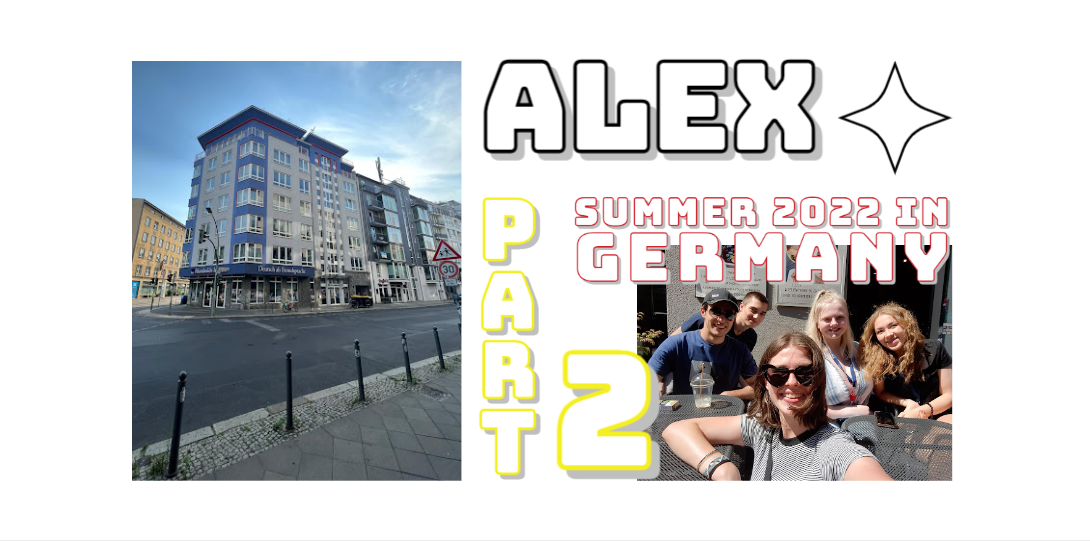 This summer I spent three weeks at an intensive language course in Berlin and three weeks traveling around Germany. My trip was made possible by the generous Fruman and Marian Jacobson "Bridges" Fund. I attended the Humboldt Institute in Berlin and loved every second of it. Since January, I was feeling like I was plateauing with my German language skills. I felt like I wasn't growing at the rate I should. I do my homework for German classes, and I tutor, but I still felt like I was stuck. The intensive language course helped me figure out my next steps.
Each week, 30 hours were spent in the classroom learning. I have never spent so much of my time dedicated to German. Outside of class, I would speak German with some people. At the Institute, I met people from every continent except Antarctica. We all had the connection of wanting to learn German. Some people knew minimal German, so I had to speak English with them. But, there were also a significant number of people who knew more German than English, so I spoke German with them. The institute had a dorm where most of the students stayed. I had a roommate from Mexico and one from Spain. It was so cool to learn about where they came from and all their thoughts about Germany. To many of the people I met, Germany was a way out of circumstances they did not like back home.
We would all go out together to the grocery store, restaurants, parks, tourist spots and the occasional beer garden. Going out was a great way to reinforce my German vocab. While in the grocery store or restaurants, you read a lot of words and it was a great way to see which vocabulary is used in everyday language. I have realized I am missing the language skills surrounding everyday life and fun. I can talk about politics and what the government should do, but I struggle to explain my plans and thoughts. I found it most difficult to tell funny stories.
I noticed a difference in the teaching styles between my class here at UIC and at the institute. While I was in class, the teacher would correct every wrong thing I (and other students) said. If I conjugated something incorrectly or used the wrong article, he would say "wait"and would walk me through how to say it correctly. This was so new to me. I've never been ultra-corrected every time I speak. I definitely think it has perks. It made me a lot more conscious of thinking before speaking. But, I also think it has a time and place. I think it is important to talk and not worry about being wrong.
Each week, we had a mini-topic and certain grammar we would focus on. My favorite topic was discussing the environment. I learned a lot of words about weather I did not know. In class, we would discuss our opinions on things, practice using the grammar we learned, watch videos and discuss them, and were taught German history. Also, in class, you could only speak German. If I was confused about a word, the teacher would explain it in German. The teacher even explained all the grammar in German. If we were really stuck, we would google secretly after class the concepts in our primary language.
I am very glad I got to partake in such an experience. I learned a lot about myself, how I learn, and what to do next with my German learning process. Being in the intensive language course, I realized I need to work on improving my level consciously with set goals. I am a person who needs goals and plans. I realized the way I have been learning German does not work for my personal learning style and that I need to find a way for it to work. I really need to focus on building my vocabulary, especially my verbs. I also need to continue working on advanced grammar. I have learned all the grammar I know on my own, but I have realized I should continue with help from others. The German professors at UIC are wonderful and create such fulfilling classes that really help my German skills, but I think I would benefit from additional classes from a language institute focused on reaching the next German language level.
Modified on September 30, 2022