3.9.2021 – Laurie on Monuments and fortresses in Haiti
3.9.2021 - Laurie on Monuments and fortresses in Haiti Heading link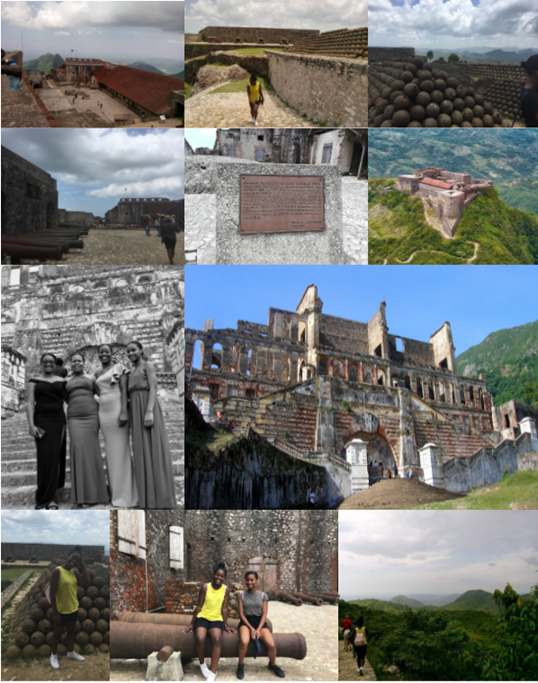 I lived in Haiti, a small country in the Caribbean, for sixteen years before coming back to the U.S where I was born. Over the years, I've had the opportunity to visit many Haitian historical monuments and places. During a recent trip back to Haiti, I visited the Citadelle Laferrière and the Sans-Soucis palace, which are both located in the Nord Department of Haiti, six hours away from the capital of the country, Port-Au-Prince.  During this trip, I was able to learn more about my country's history and my heritage and I would love to share some of the places I visited in The Land of High mountains, Haiti.
Haiti is divided into ten departments; these are like states. Although the country is very small, each département is unique. The people living in each of them have different lifestyles, food specialties, and even their accents can sometimes be different. Before my trip, I had only been to six of the départements, so my family and I decided to visit the Nord department to learn more about my ancestors who came from that area and attend my cousin's wedding at the Sans-Soucis Palace.
The Citadelle Laferrière, also known as the Citadelle Henri Christophe, is one of the largest fortresses in the Americas (pictures 1-4, 9-11) . It's a UNESCO World Heritage Site, as is the Sans-Souci Palace (pictures 7 & 8). This icon of Haiti was built by Henri Christophe, a leader during the war for Haitian independence (1791–1804), and many other former slaves right after Haiti gained its independence from France on January 1st, 1804 and became the world's first Black-led republic and the first independent Caribbean country. They built this fortress in order to protect themselves against a possible incursion from French colonizers and/or other foreign invasions.
The fortress is located on top of a very high mountain and in order to get there, you have to walk for hours or ride a horse; we chose to walk. On my way up the mountain, I encountered a group of men singing and playing different instruments such as different tanbous (a type of drum), banbous (rudimentary single-note trumpets found in Haiti ), marímbula (plays the role of a bass guitar), and marakas ( hand percussion instrument). Everybody gathered around them and we all danced and sang before going up the mountain. The view of the landscape from the top is absolutely stunning. Inside of the citadel, there is a history museum, dungeons, canons, bullets, and many open windows and doors that allowed me to feel the fresh air. Also, there is a tour guide who speaks many languages including English who is able to tell the history of the fortress and the palace.
For more information about the fortress and the palace:
–Laurie
Modified on July 15, 2021