4.16.2020 – Nikki on Cooking Crepes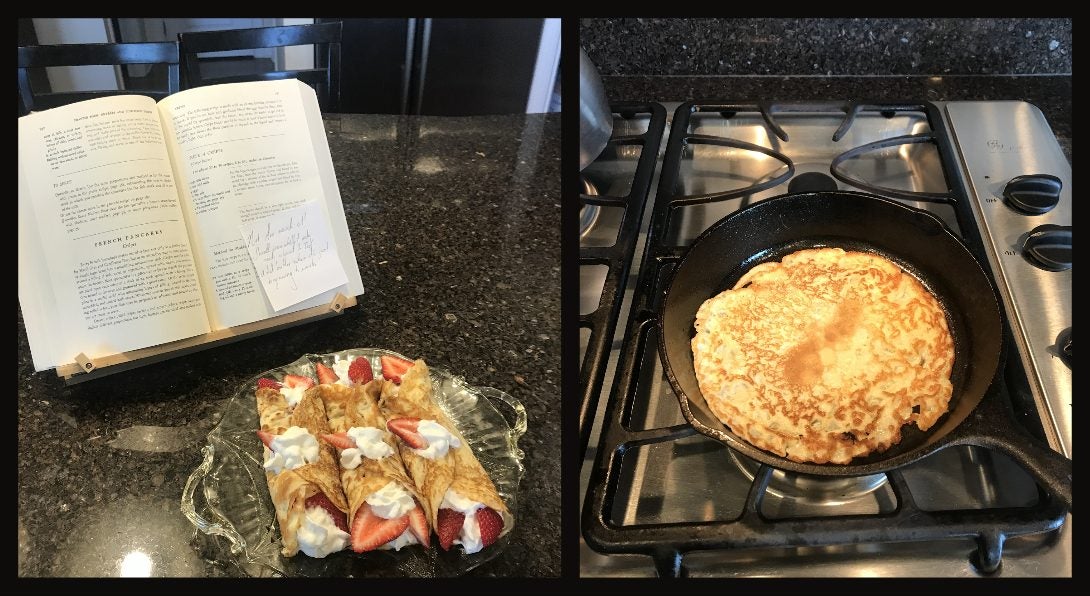 C'est presque le week-end tout le monde!
This week I couldn't help but make a classic French dish from Julia Child's Mastering the Art of French Cooking (Child, Bertholle, Beck 191): pâte à crêpes (crepes). I've eaten plenty of crepes before, but this will have been my first time making them; and what better than to follow the directions of the master chef herself? For those interested, here is a link to another online crepe recipe that was inspired by Child's rendition: French Crêpe Recipe
Crepe Batter:
1 cup cold water
1 cup cold milk
4 eggs
½ tsp salt
1 ½ cups flour
4 Tb melted butter
Crepe pan or skillet
Mix all of the above (in an electric mixer or by hand), starting with the water, milk, eggs, and salt. Then mix in flour and butter. It takes all of 5 minutes to prepare this crepe batter!
The ingredients, I realized, were pretty basic and can probably already be found in most pantries: water, milk, eggs, salt, flour, and butter (Julia Child worshipped butter, like us all). Unless someone out there has sold their soul to the art of crepe-making, a crepe pan is NOT necessary! Although they can be cute and pretty, you just need a skillet, preferably iron. After mixing the batter, its consistency should be like a watery pancake batter. If it is too heavy, the crepes will come out thick and chunky and no one wants that, not even your grandparents.
Now for the hardest part: trying to tame the elements. The first crepe should always be a trial. The heat should be turned medium-high (not too high or one side will quickly burn and not too low or it won't fry correctly). I noticed that if you have a smaller skillet (8-10 inches), only 1-2 Tb of oil is necessary. Too much oil will make the crepe greasy and grossly inedible. However, enough oil should be used so that the batter fries as soon as it touches the pan. This leads me to another revelation: after adding the oil, it is imperative that you add the batter AS SOON as you see smoke from the pan. Waiting too long will produce an embarrassing excuse for food that even the FDA wouldn't approve of. We are also not trying to alarm the neighbors by recreating the Great Chicago Fire. It's safe to say that I had a brief moment of panic where I thought I thought my fire alarms were about to be set off.
Surprisingly, flipping the crepe was not terribly hard. I must've had built-up anxiety about this part due to previous unfortunate circumstances with other flippable foods because there was a small celebration when I successfully turned the crepe without ruining it. In terms of filling, I attempted to make homemade whipped cream with half and half because I was previously told (thanks mom) that if you added some butter, it would make up the same fat content that is in heavy cream. This was a big mistake. Bits of cream-coated butter EVERYWHERE. I don't even know how that was possible since I melted the butter first. The failure could have been due to my mixing bowl not being cold enough, but it doesn't matter because I was temporarily scarred and resorted to using canned whipped cream. The point is, if you want to make homemade whipped cream, you need four essential items: heavy cream, sugar, vanilla, and a cold bowl.
Overall, this recipe is simple, easy, and versatile. There are plenty of different crepe-filling recipes that are cream cheese-based (yum) that can be found online. Add anything you like – candy, nuts, fruit, etc. But all you really need are the basics beloved in France: any kind of jam, just sugar, Nutella, or–try a savory crepe with melted cheese or ham.
If you or a quarantined loved one is suffering from pyromania, do not try this at home. Do try this at home if you want to be temporarily relocated to a Parisian crêperie. MIAM (=French for yum!)!
– Nikki
Child, J., Bertholle, L., & Beck, S. (2001). Mastering the Art of French Cooking: Distributed by Random House. New York: Alfred A. Knopf.
Modified on July 15, 2021