4.9.2020 – Nikki on trying out new French recipes
4.9.2020 - Nikki on trying out new French recipes Heading link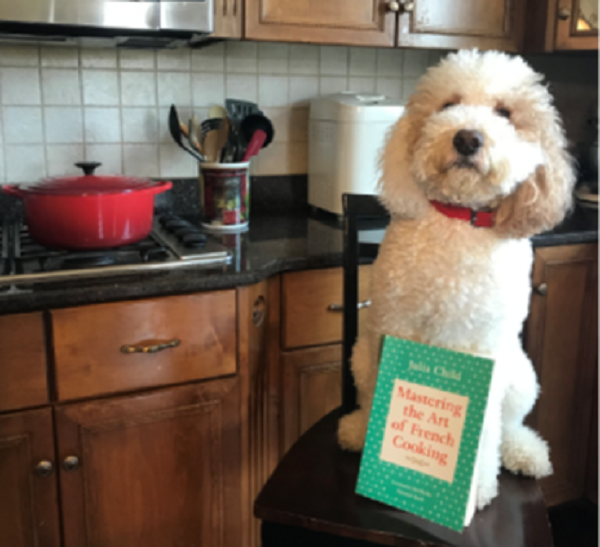 Salut tout le monde!
Before Julia Child, French cuisine was an enigma to Americans. One of the most renowned chefs in American history, Julia Child found her love for cooking in 1948 when her husband was reassigned to the U.S. Information Service at the American Embassy in Paris. She attended Le Cordon Bleu, one of the most prestigious culinary schools in the world. Teaming up with fellow chefs, Simone Beck and Louisette Bertolle, Child authored her famous cookbook, Mastering the Art of French Cooking (1961). She became an icon and was granted a PBS special in 1963 to bring her cooking tips to the small screens of America.
PBS recently revisited the legacy of Julia Child by airing a new special called Dishing with Julia Child where modern cooks watch and discuss her specials from 1963. There are two episodes every Friday night at 10:00pm and 10:30pm on PBS (WTTW). Also available to watch is Julie and Julia on Netflix which is a biographical narrative about two women of different times: Julia Child (played by Meryl Streep) and Julie Powell (played by Amy Adams). Julie Powell represents the real life author who committed to cooking every single recipe (524 recipes in total, yikes!) in Julia Child's Mastering in 365 days whilst blogging her progress.
In the midst of all the chaos happening in the world right now and #stayathome, I have decided to venture out into the dark, mysterious depths of my house that is… my kitchen. Now that I have this extra time and no books left to read, I have decided to take it upon myself to attempt some of these recipes. Of course, I will only be cooking recipes from Mastering that are practical and non-wasteful in terms of resources during the pandemic. The goal is to cook 1-2 recipes a week, depending on difficulty and access to ingredients.
Today's featured recipe is one for croissants (not from Mastering) that I found online last week at this link.
For people who are unfamiliar with baking, precision and adherence to procedure is very important, so this recipe is great because it outlines every step with pictures, tips, and explanations. Homemade croissants are not necessarily an easy task. For about 6-7 hours, it is just layering the dough and waiting, however, performing these steps correctly is principal to traditional flaky croissants. If you do not have the patience or strength to commit to Jo's outline, this recipe is NOT the one for you.
For the sake of healthy eating (if your family/friends are dieting like mine) or if you're only feeding 1-3 people, I recommend cutting this recipe in half to make 12 croissants instead of 24. I made this mistake and could not prevent the wrath of hungry parents.
Do try this at home. Not recommended for people who dislike butter. No tree nuts added. A chocolate or fruit filling is encouraged. Dippable in cafe au lait.
– Nikki
Modified on July 15, 2021