10.19.2022: French Peer Tutor Izzy reviews the film La Haine (1995)
French Peer Tutor Izzy reviews the film"La Haine" (1995) Heading link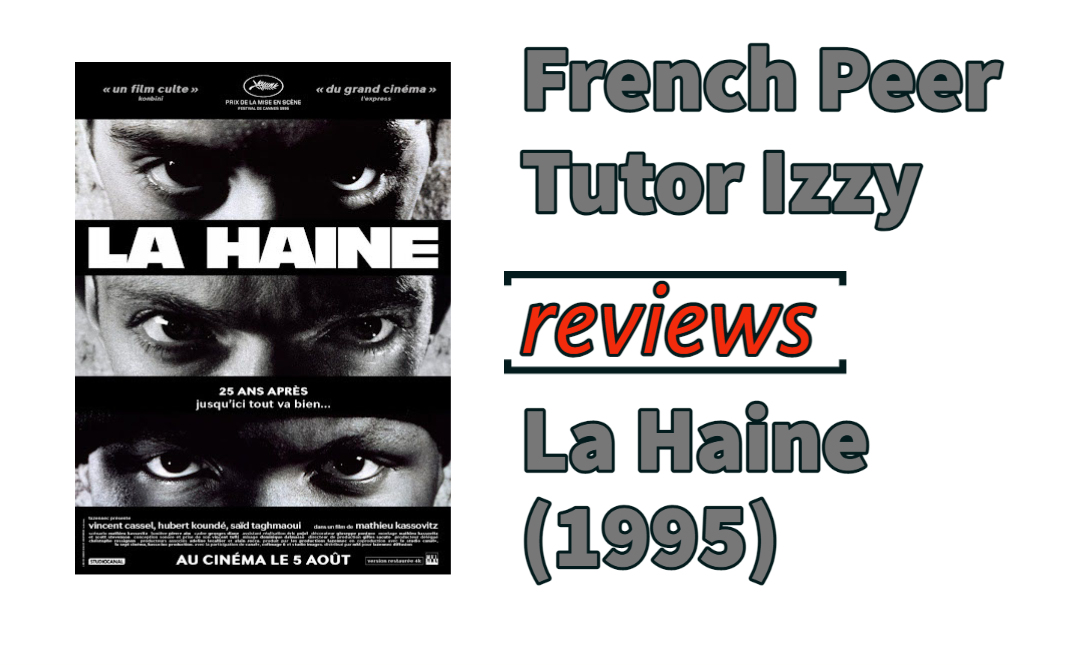 La Haine, directed by Mathieu Kassovitz, is a 1995 black-and-white French film that follows the lives of three boys living in the low-income neighborhoods of Paris, France. La Haine is a documentary-style production, which follows the three main characters in the 24 hours after a violent police riot. The film is loosely based around the death of a 22 year old protester who was shot and killed during the 1993 riots in Paris, France. The movie begins with a montage of carnage and violence as the audience is introduced to our first character, a police brutality victim named Abdel. Abdel was beaten so severely that he was brought to the hospital in a comatose state. Shortly after, we are introduced to the three protagonists, Hubert, Saïd and Vinz. It is revealed that our three main protagonists are close friends of Abdel and we begin following their journey through anger and revenge.
The movie is beautifully shot with countless cinematic moments which aid in the emotion of the story. The film is very personal, showing close up shots of the actors to gain a more raw and emotive feeling. The bird's eye view shots in the film are done tastefully and give the audience an idea of how small our characters feel. They are three young children attempting to fight a corrupt police system. They are metaphorically small compared to the issues that they are trying to fight against. The filmography in this movie shows the physical manifestation of these emotional and metaphorical issues. The mirror shots of our protagonists getting ready make you feel like there is no camera, but just you and the characters.​​ There are moments in the movie where the shot lingers for too long, mimicking the anticipation and anxiety that the characters feel as they wait on news of their friend Abdel's condition. The film is beautiful and elegant, while still capturing themes like racism, police brutality, drug use and anger.
For a majority of the movie we follow the protagonists as they wander around the city. The characters are trying to occupy their minds and their bodies as they are filled with rage and anxiety, trying their best not to act out in vengeance. Our main character Vinz steals a gun from the police during the riots and is fighting his desire to seek justice for his now deceased friend Abdel. The movie is eerily calm and leaves you in anticipation. It is surprising and realistic, and finds a perfect balance between anticipation and surprise. This movie leaves you thinking and feeling for the characters, long after it has ended. I would highly recommend this movie because it shows a unique perspective on French culture, one that is not glamorized in Western media. I won't spoil the ending, you'll just have to watch for yourself…
La Haine is available through UIC Kanopy (using link below) and on Youtube.
https://www.kanopy.com/en/uic/video/214683
**La Haine contains themes of violence, drug abuse, death, police brutality, racism, mature language and gun violence.
Modified on March 13, 2023