3.15.2023: French Peer Tutor Ketura writes about Konpa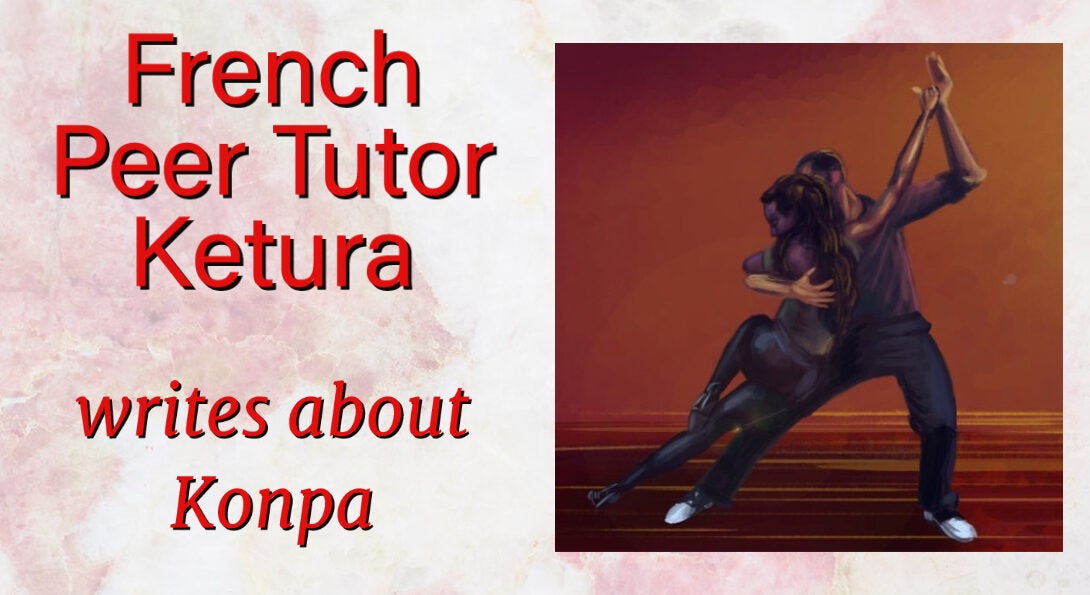 I love Konpa. Listening and dancing to Konpa revives happiness in me. I moved to the United States when I was 14 years old. Konpa is a dance song that originated in Haiti in the 1950s and it is at the heart of Haiti's culture, beauty, and uniqueness. It is also present in various Caribbean countries such as Martinique and Guadeloupe. It is often compared to zouk which is a dance music of the French Antilles and  is referred to as modern Meringue. The Merengue originated in the Dominican Republic in the 19th century.
Every time I listen to Konpa it always brings me back to my life in Haiti. I start remembering myself on the road listening to songs or dancing at the parties I used to go to with my family and friends. When I was 14, I went to a family friend's 70th birthday party, and music was playing while people were talking and eating. But, when the DJ put on a Konpa song, everyone got up, found a partner to dance with. Me and my sister danced with our uncles. You can dance with anyone. You can be sure that if Haitians are having a party, there will definitely be Konpa. We often say that a party without Konpa is not a Haitian party. Here in Chicago, I dance Konpa at home when me and my cousins just want to have fun.
Konpa has different styles. Nemours Jean Baptiste introduced the carré or square which is a two-step dance style. Konpa is danced in pairs, and being close to each other and holding hands is crucial when dancing. Watching individuals dance Konpa is pleasant. However, dancing with one's partner, a friend or even a stranger is even more pleasant. The attraction, the connection, and sharing of the same love for the dance causes the observers and the dancers to be submerged by its beauty at the moment.
Furthermore, Konpa can be danced slowly or at a fast pace. The lyrics of the Konpa songs mostly talk about love but some Konpa songs do not have lyrics. The partners can also only rely on the rhythm to dance. The instruments that constitute Konpa songs are a guitar, a piano, a marimbula which acts as a bass guitar, drums, maracas, and trumpets. However, the use of some of the instruments depends on the style of the Konpa. Haitians can listen to the rhythm and the note of the song and know what step of the dance they need to perform. The slow sound of the guitar can cause the partners to start using their hips and undulate them. Being coordinated, listening to the rhythm and the style of the song, is crucial for the movement of the partners. Most of the time people who do not know how to dance Konpa have often difficulties staying connected and following the steps of their partners.
Konpa is more than a dance song to us. It connects all of us. Wherever we are in the world we will always bring this part of our culture with us. Whenever I say I am Haitian, people from other countries often ask me if I know how to dance Konpa and I love it because it shows that people are aware of this beautiful part of our culture.
One of my favorite Konpa songs is "Ayiti" by Carimi. you can check it out here: https://www.youtube.com/watch?v=EjhlgdfhfWk
I hope you enjoy it as much as I do.
Modified on March 15, 2023