6.25.2021 Susy's Second Home: How Living in Mexico Brought Her Closer to Her Hispanic Heritage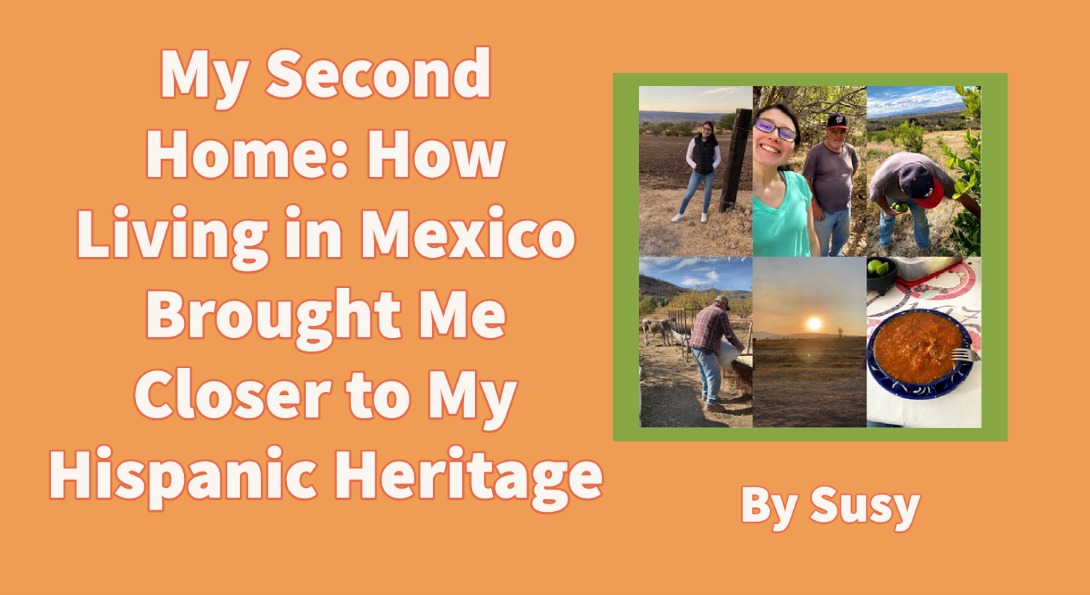 Recently, I had the opportunity to immerse myself deeper into my culture by spending four months in my dad's hometown in Calvillo, Aguascalientes, Mexico. That experience is one that I will cherish forever because it made me appreciate my dad, my language, and my culture even more.
When I was in elementary school, I was placed in bilingual classes until I tested out of it in third grade. After this, I never used my Spanish in school and I didn't really experience any connections to my Mexican heritage in school, especially after I moved to a predominantly white school in the Chicago suburbs. When I had the opportunity to stay in Mexico because classes were remote, my two separate language worlds collided and for the first time ever, I experienced a deep connection with my roots while being in school. I was doing a lot of code switching when I was in Mexico, I went from having French conversations, to English, and then to Spanish all during the span of two hours and all from the comfort of my home in Mexico. Not only did I learn to further appreciate my native language, but I also learned to appreciate the simple yet beautiful nature of life in Mexico.
There are a lot of cultural differences that I always took for granted, but I learned to embrace these in Calvillo. For example, those "morning walks" in nature that people wake up early for are a part of everyday life for Calvillo residents. Stores are all within walking distance, so people fill "la plaza" (the town square) early in the morning to start off their day. My dad in particular gets up at five and walks to a garage to get his truck and drive to "Los Adobes" (field where he works) everyday out of necessity since he can't park in the street because it's dangerous.
My favorite part about living in Calvillo was getting to witness the work ethic of people in Mexico, which was reflected in my dad. My dad, a field worker/farmer, picks guavas and limes that he grows himself and tends to his livestock and plants. Every day is different for him, sometimes he gets calls from a local "elote" (corn) street vendor for him to pick up the corn husks, load them in his pick up truck, and drive back to Los Adobes to feed his cows. Sometimes, corn vendors would call him up to three times a day, and he would eagerly get up and go back to work without complaining because not only does he live off of this type of work, but he also enjoys it.
Another thing that I learned to love was the homey-ness of Mexico. It feels like everyone knows each other because when you walk down the street people always smile and greet you. Although, another cultural difference is that when someone you recognize passes by, they yell "adios" instead of "hola." To an American, this would seem somewhat rude since people usually say "hi/bye" sarcastically when they don't stop by to talk. However in Calvillo, this is perfectly acceptable and ironically, saying "bye" is a way of greeting another person when you're just passing by.
Lastly, I had the opportunity to cook with natural and fresh ingredients; most everything is naturally grown. Like I mentioned above, my dad grows limes, so I always made some fresh "agua de limon" (lime water) and squeezed some in the guacamole that we made with avocados also grown in – yep you guessed it, Mexico. Everyday I would also go to the local tortilleria (tortilla store) and wait patiently for the tortillas to come out of the pressing machine. Then, I'd walk back home and make myself a delicious cheese taco- the cheese was also freshly made with the milk from my dad's cows. In short, eating fresh ingredients and products added an authentic taste to the food we ate in Mexico, and that's something that I miss constantly.
Even though my life in the Chicago suburbs feels immersive in that I speak Spanish and eat Mexican food, obviously living in Mexico was a unique experience. Sure, I did activities that I usually do on my yearly trips, but when I stayed there for four months, Mexico really did become my second home. I made new connections with my family and connected with my roots in ways that brought me closer to my Mexican heritage.
Modified on July 14, 2021