5.4.2021 – Alex's language tips for the summer!
5.4.2021 - Alex's language tips for the summer! Heading link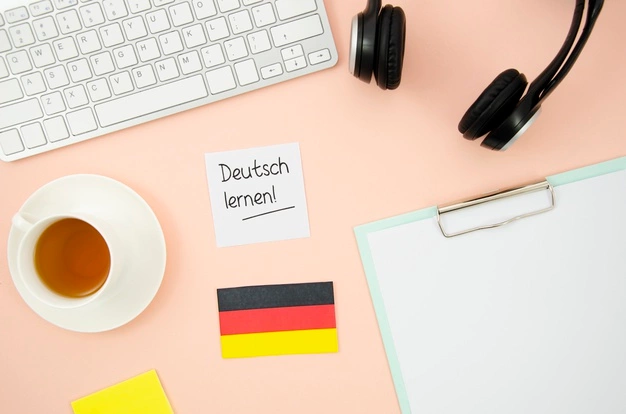 While your German lectures may be over for this semester, you can still continue practicing and studying German! Here are some fun and different ways to study, some of which I will be doing this summer.
1. Place little sticky notes around your living space that have the German translation of things in that area. For example, put a sticky note on the wall by your bed with "das Bett" (the bed), das Kissen (the pillow), die Decke (the blanket). When you get into your bed, say the words out loud. This will help you memorize the words and keep them fresh in your mind. This is something I will be doing this summer to help me memorize the articles of words.
2. Review homework you have done over the semester. If you got something wrong try and figure out why it is wrong and correct it. For things that you got right, explain to yourself why it is right. This will help you understand how grammar and vocabulary work.
3. At the end of each week write a sentence, or up to a paragraph about what you did that week. This will help you practice writing and reflect on your week.
4. Listen to podcasts, Youtube videos, Twitch streams in German. There are podcasts and Youtube channels dedicated to people who are learning German. For beginners, a great podcast to listen to is Coffee Break German. They have a wide range of topics, speak slowly, and explain words that may not be known by the listener. For intermediates, the podcast Slow German is great because they speak clear and loud but still have interesting topics. For advanced learners, I recommend watching game shows like Quizduell. They provide a wide array of topics, people from various places in Germany so you can get used to various accents, and are fairly fast-paced. You can find various game shows on Youtube. I plan on watching a lot of game shows this summer, in addition to the last two seasons of Dark on Netflix.
5. If you are an advanced German language student, set your phone or computer's language as German. Before you do switch, make sure you know how to turn it back to the language you have your phone in currently. This is another thing I plan on doing.
6. Listen to German music. There are many German artists who sing in all kinds of styles. Find the music you enjoy. My favorite German bands are Bilderbuch and AnnenMayKantereit!
Just because it is summer does not mean practicing a language needs to end. Studying a bit every week will keep your mind fresh for when classes resume in the fall. If you want to study this summer, I hope my tips offer some insight to you.
–Alex
Modified on July 14, 2021