Who We Are
LCLC Director: Elizabeth Dolly Weber, Ph.D.
Dr. Weber has been directing the LCLC since 2010.  In addition to working with faculty and graduate students to help find the appropriate technology for each situation, her particular interest is in projects that provide opportunities for student choice, creativity, and collaboration in and beyond the classroom: mapping for language, literature,and culture classes; wikis for writing and note-taking; blogs to foster interest and engagement.  She is also Language Program Director for the French Basic Language Program in the Department of French and Francophone Studies.
Digital Humanities Postdoctoral Research Associate: Iwona B. Lech, Ph.D.
Iwona holds her Ph.D. in Educational Psychology and M.A. in Germanic Studies. She also has a graduate certificate in Distance Education and is an ACTFL OPI certified tester in Polish. She has been teaching German, Polish, Humanities, and Educational Psychology in person and online, leading workshops on blended and online teaching, and developing online and blended courses. Her current research interests evolve around technology use in language instruction, informal online learning of languages, positive psychology in education and in SLA, usage-based models of language learning, and mixed research methodologies.
LCLC Research Assistant: Brian Zdancewicz
Brian Zdancewicz completed an MA in Polish, Russian, and Central and Eastern European Studies in Spring 2020, and is now working on a PhD with UIC's Department of Polish, Russian, and Lithuanian Studies. He is interested in semantics and semiotics, comparative and historical linguistics, linguistic typology, Eastern European languages and cultures, experimental and avant-garde music and visual art, as well as exploring different perspectives from which to perceive art, language, meaning, reality, and human experience. Brian also spends time producing abstract drawings, listening to history podcasts, and pursuing a variety of musical projects.
LCLC Research Assistant: Juanita Calvo
Juanita Calvo is a PhD candidate in Hispanic Literary and Cultural Studies, and her dissertation is on contemporary Latin American literature with a focus on autobiographical narratives. She has taught Spanish at the high school and college level for over a decade and enjoys exploring new methods of learning and teaching. In her free time Juanita loves to garden, paint, and make piñatas.
LCLC Research Assistant: Lily Schreiner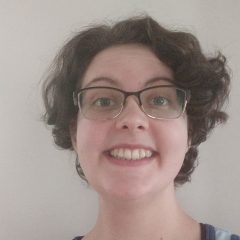 Lily Schreiner is pursuing her MA in Germanic Studies at UIC and has a passion for German cinema, having completed her Honors College Capstone on The Cabinet of Dr. Caligari. Lily holds her BA in Germanic Studies with a minor in Biological Sciences and has a keen interest in genetics. In her time away from UIC, Lily enjoys listening to old-school music and fishing with her dad.