Who We Are
Elizabeth Dolly Weber, Ph.D has been directing the LCLC since 2010.  In addition to working with faculty and graduate students to help find the appropriate technology for each situation, her particular interest is in projects that provide opportunities for student choice, creativity, and collaboration in and beyond the classroom: mapping for language, literature,and culture classes; wikis for writing and note-taking; blogs to foster interest and engagement.  She is also Language Program Director for the French Basic Language Program in the Department of French and Francophone Studies.
Julianne Brooks (LCLC Program Assistant) has been engaging with digital humanities and the instruction of foreign language since 2016. She completed her MA in French at UIC in 2018, where her research focused on the intersection of 18th century political thought and contemporary utopian fiction. She worked with The Newberry Library to see to the digitization of 30,000 political pamphlets from the French Revolution. When teaching, she's interested in the utility of media (film, music, social media) to promote student engagement in the target language. She also enjoys facilitating the pedagogical development of new language instructors. Outside UIC, she likes to garden, attend movies at the Music Box, and bike the lakefront.
Vincenzo Cerasuolo (LCLC Program Assistant) recently completed an MA in Applied Languages in Italian with a concentration in Foreign Language Teaching at Middlebury College Language Schools. He completed his program abroad in Florence, Italy, from Fall 2022 – Summer 2023. For his Master's Thesis, he researched the relationship between teaching Italian grammar in FL programs, the dynamics of Italian itself, and the Dantean idea that grammar can lead language speakers to their virtue. Before Middlebury, he completed a BA in both History and Italian from Dominican University, where he also works as an adjunct professor of Italian and as the Mazzuchelli Scholars Honors Program Assistant. Beyond academia, Vincenzo enjoys listening to music, watching movies, and traveling.
Brian Zdancewicz (LCLC Research Assistant) completed an MA in Polish, Russian, and Central and Eastern European Studies in Spring 2020, and is now working on a PhD with UIC's Department of Polish, Russian, and Lithuanian Studies (PRLS). Brian's planned dissertation aims to explore how we might process impulses toward doom, dread, and detachment that arise from awareness of historical and contemporary events through the lens of a deeper, more productive conceptualization of melancholy. Beyond this, Brian is interested in theology, metaphysics, musicology, semantics and semiotics, comparative and historical linguistics, and experimentalism in art. Brian also spends time drawing, making music, watching American football, and learning about the world.
Ekaterina Petrenko (LCLC Research Assistant) is an MA student in Polish, Russian, and Central and Eastern European Studies. She completed a BA in History at HSE, where she was engaged in the medical history of empires, epidemics and diseases. Her research interests during MA include literary and historical study of medical humanities. She is also interested in historical memory and politics, and in building historical narratives and narratives about crises in the media space. She currently teaches Russian at UIC. In her free time she enjoys reading, listening to music, playing group board games and meeting new people.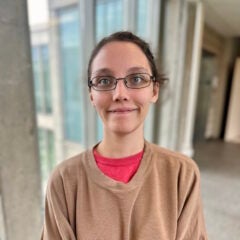 Cheyenne Otto (LCLC Research Assistant) is an MA student in Germanic Studies. In the Fall of 2022, she completed a BA in History at UIC with an area of concentration in world history, often focused on the nuances and consequences of collisions in an interconnected and ever-changing world. Her research interests also include imperialism, gender studies, and the presentation of forms of power in media. Outside of academia, she can be found spending time drawing, playing video games, and discussing media with her friends.
Emma Janatka (LCLC Research Assistant) is currently an MA student in the Germanic Studies Department. In the Spring of 2023, she completed a BA in Germanic Studies with a minor in Art History. She completed her capstone project with the UIC Honors College on Degenerate Art: The Strange Case of Emil Nolde. Given her interest in art history, she enjoys the styles of Expressionism and Impressionism and exploring other German artists. Outside of school, she enjoys biking, hanging out with her cat, and going out with friends.