5.27.2021 – Celeste on Different Styles of "Mole"
5.27.2021 - Celeste on the Different Styles of "Mole" Heading link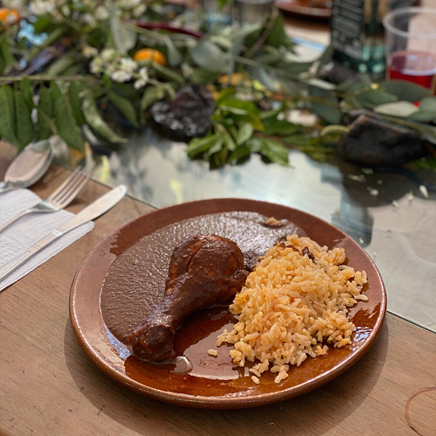 Mole is my favorite dish not only because it means so much to my family but because it brings my family together. This dish has a special place in my heart because when my family gets together for birthdays we all enjoy the spicy mole made by the people we love the most. My mother and grandmother make this dish with all the ingredients and steps in the spicy recipe. This dish is very important to my family because it has been enjoyed only on special occasions for decades by the women I love. My grandmother and mother would only eat it once a year as it contains many ingredients that they could not afford in Mexico. This dish connects my family to their roots as it is a recipe that has been made for generations in Mexico. Although my mother and grandmother are from Michoacán, mole originated from Puebla and Oaxaca but gradually expanded.
Although mole is sometimes thought of as a Mexican dish, it is not just a dish but a famous sauce that is made all over Mexico. However, it originated from Oaxaca and Puebla. Depending on where the mole is from, the taste differs: sweet, sour, spicy. Mole translates to "sauce" which can contain many different ingredients like fruit, chili peppers, nuts, cinnamon, or cumin. Mole is one of the most popular dishes in Mexico. If you want to try it, make sure to do your research to find out which one you're getting your hands on!
One recipe of a spicy mole contains:
20 Chiles Negros/hot pepper
2 Chiles Pasilla/hot pepper
15 chiles de árbol/ hot pepper
2 Bolillos/ white bread rolls
3 tortillas
2 Tomatoes
1 Onion
½ Cup of almonds
½ Cup of peanuts with no salt
½ sunflower seeds
½ de ajonjolí
8 garlic cloves
15 pimientas/black pepper
15 cloves
 Canola oil
The last ingredient people can not forget to add is love!
First you will boil the chicken in 2 liters of water with two garlic cloves, ¼ of an onion, and salt on medium to low heat. Cover the pot and let boil for 35-40 mins.
Then you are going to fry the bread, hot peppers/chiles, onions, garlic and tomato, almonds, peanuts, sunflower seeds flower and pepper with oil or manteca (lard). After that, add these ingredients to the chicken broth from the cooked chicken.
You are going to put all the ingredients in the blender and blend!
Then you strain the sauce and add it in a pot on medium heat. Let it boil and it's ready to serve!
A sweet alternative mole recipe can be made with many similar ingredients with a bit of a twist, sweets!!
2 lb pollo/chicken (legs and thigh your choice)
Chile ancho/ hot peppers 50 grams
Chile pasilla/hot peppers50 grams
Sugar (to taste)
Oregano 20 grams
Plantain (half a piece)
5 cold tortillas
White bread rolls/bolillos
Four garlic cloves
15 pimienta/black pepper
15 clavos/cloves
2 bars of chocolate (your choosing, preferably the "Abuelita" brand)
Cinnamon to taste
Love
First you will boil the chicken in 2 liters of water with two garlic cloves, ¼ of an onion, and salt on medium to low. Cover the pot and let boil for 35-40 mins.
While the chicken cooks, you can wash the chiles (hot peppers) and remove all the seeds from the inside.
With oil or manteca (lard) you will fry the tortillas, the banana, cinnamon, bread and clavos.
After you put all of this to the side. Use the same oil to fry the chiles.
You add all the fried ingredients to a blender with the water that you boiled the chicken with.
Strain the sauce to a skillet on low heat and add the chocolate in order for it to melt.
Finally, add sugar to your liking. Let your sweet tooth be the judge. Add the chicken and enjoy with a side of red rice!!
If both of these recipes seem difficult to make but you still want to try this delicious sauce that Mexico is known for, good news!  There are many options to try it in Chicago's authentic Mexican restaurants. Some I recommend are:
Sol de Mexico

8918 S Commercial Ave, Chicago, IL 60617

Mis Moles Restaurants

3661 N Elston Ave, Chicago, IL 60618

XOchimilco Mexican Restaurant

Located: 2030 W Montrose Ave, Chicago, IL 60618
– Celeste
Modified on July 14, 2021