Valeria G.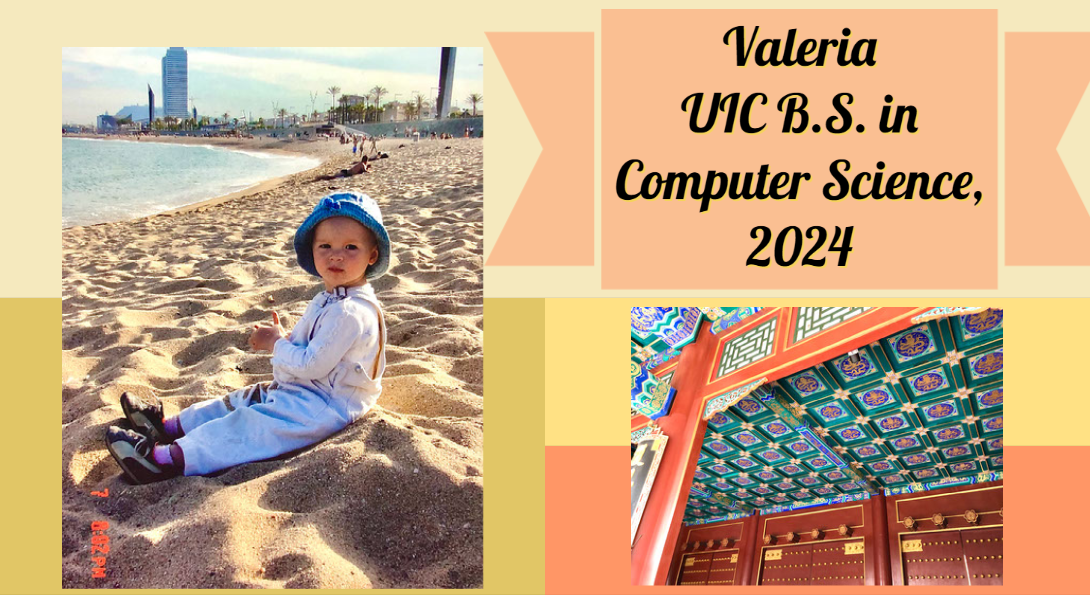 -Valeria, UIC B.S. in Computer Science, May 2024
As my family is spread over many different parts of the world, I am incredibly fortunate to have been constantly exposed to a multilingual environment that ultimately developed me into the person that I am today. Narrowing down my identity to any one nationality has always been impossible, so instead, I like to see myself as the coming together of many different cultures in a diverse collaboration that became me.
I cannot start my language journey without talking about my birthplace: Barcelona, Spain. Since my parents were both immigrants from Ukraine, my childhood was colored by my two identities: my Spanish and Catalan identity that emerged in school and with friends, and my Russian identity which served as a bridge to my Ukrainian heritage and allowed me to communicate with my family members.
When I was 10, my family received the opportunity to move to Chicago, where the second phase of my language learning journey began. Although I struggled incredibly with learning English from scratch (both because my parents also did not speak English and we did not have any friends in Chicago), I did eventually move on from ESL classes. In my opinion, after years of hard work, attaining fluency in English is still to this day one of my proudest achievements.
My language journey with Chinese is something that I never expected would occur, but I'm incredibly grateful it happened.   Since studying a foreign language is required in middle school and high school, I had to take another language in combination with trying to learn English. While I could have taken the easy way out and studied Spanish or French (because of my Catalan background), I wanted to learn a language that was beyond my comfort zone and that would provide a different perspective on the world. Chinese ended up becoming my most passionate hobby, and although I still don't consider myself being fluent, I am happy with the progress I've made. My mom and I went on a two week country-wide tour of China a couple of years ago, and I was able to use my limited language skills to find local recommendations for attractions, restaurants, and experiences.
I believe that learning a second language is one of the most useful things a person could ever do with their time. Not only does being bilingual provide immense job prospects in pretty much any profession, it also allows you to understand and appreciate a culture so much more deeply than a history class could ever hope to achieve. Furthermore, it cannot be explained with words just how happy people become when you speak their native language with them. The connections you develop with others are unlike any other, and the experiences that result stay with you forever.
I leave you with this final note: even if you started learning a foreign language and gave up, or even if you (like me with Catalan) are starting to forget a language, keep pursuing it. It is never too late to learn a new language, anyone has that capability, and you will never regret the new connections and diverse knowledge that will result.
Modified on January 07, 2022