Susy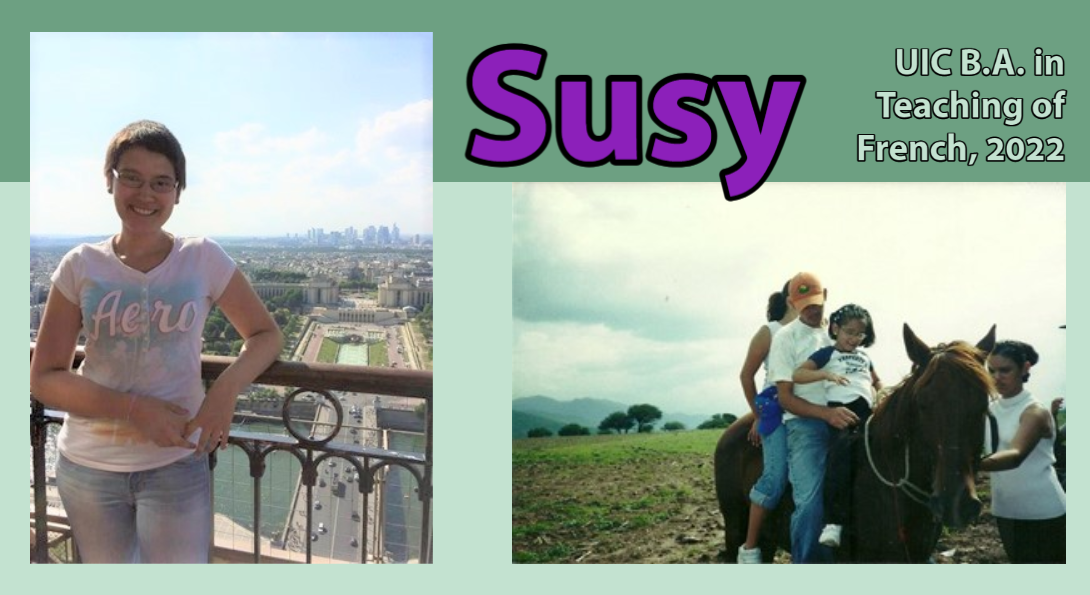 My parents came to the United States at the age of sixteen, searching for more opportunities. My mom traveled from Zacatecas, Mexico, and my dad from Aguascalientes, Mexico. Eventually, when my brother and I were born (in Chicago), they focused on giving us the life they aspired for themselves. Growing up, my parents always reminded us of the importance of appreciating and never forgetting our native language, Spanish. For this reason, my brother and I were not allowed to speak English at home unless we had an English-speaking guest. We always complained, but as I grew older, I learned to value just how crucial it was to conserve my native tongue.
Now, I am lucky enough to travel yearly to Mexico, immerse myself further in my culture, and bond with my family, all while communicating effectively. Thanks to my dad's constant reminder, I'm proud to say that I never forgot my Spanish.
In addition to conserving our Spanish, my dad also wanted us to learn a third language because "languages will open many doors for you." And he was right. I started to learn French at twelve years old, and I had the privilege of traveling to France at seventeen. I remember having a conversation with my exchange student, and feeling a sense of pride as she told me that I was the only exchange student that spoke French outside of their host family's home. I loved the language so much that I took every opportunity that I got to practice it, always eager to learn more. I was fascinated by the idea of having connections with people abroad. How amazing would it be to travel to other countries and be able to communicate with the residents about music, food, and culture? Being able to understand and sing along to French paroles (lyrics) in general is pretty incredible because you're introduced to a different world of artists and perspectives. This aspiration motivated me to continue filling up with French knowledge, and to eventually teach the language.
I am currently pursuing a major in Teaching of French and working on an English as a Second Language (ESL) endorsement because I wish to advocate for languages in our future generations. I want to teach all those young students the wonders of English while making sure they preserve their own native languages too. One day, I would also like to get a Spanish teaching endorsement to pave the way for other students to learn such a beautiful language and its culture.
As a future educator, I want nothing more than to see my students get excited when they speak another language. I want to share the joy that I feel when communicating effectively with someone from another country. More importantly, I would like to teach my students to open their minds to other cultures and to have perspectives beyond their own, just as my parents and teachers taught me.
Modified on January 07, 2022