Luana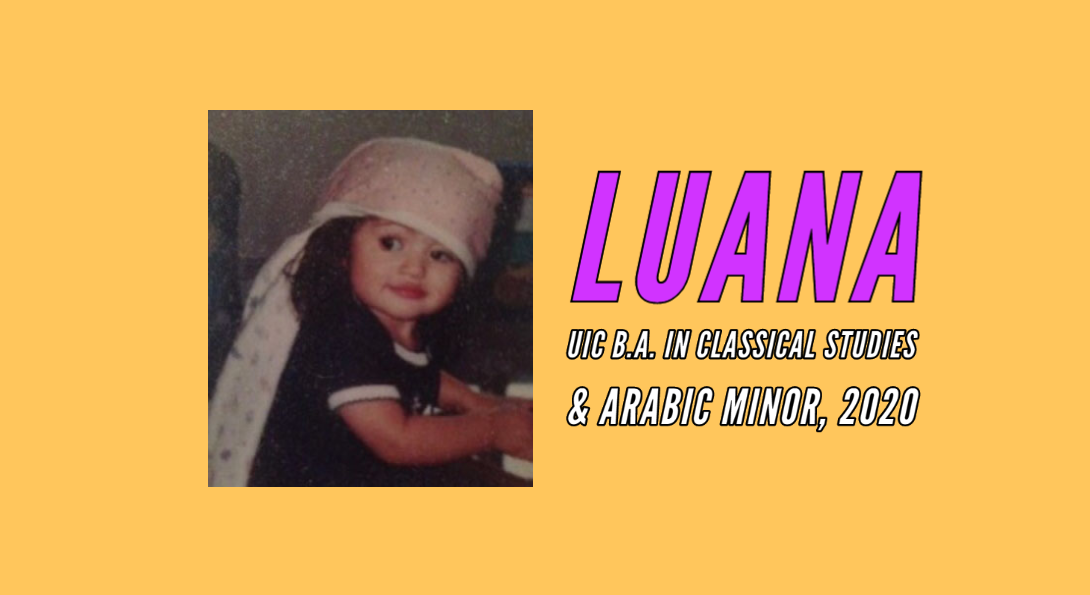 -Luana, UIC B.A. in Classical Studies & Arabic minor, 2020
Growing up in a half-Peruvian half-Palestinian home, I was surrounded by many languages. I grew up listening to Portuguese music, dancing cumbia with my Peruvian family, and being lovingly disciplined in Arabic by my mom. My rich ancestry made for a unique cultural and religious upbringing that has impacted the way I behave today. I became more empathetic, tolerant, and knowledgeable about traditions that were non-American and I thank my family for that.
In high school, I took French, and I actually participated in French competitions called Champions d'Expression Órale, and won several times.
So up until I came to UIC, my Arabic skills were minimal. I only knew the music of my favorite Arab artists and words involving house chores, but could never hold a simple conversation. It wasn't until my second year when I decided to take a shot at improving my Arabic and started taking courses at UIC with my incredible professor Jumana Almahamid. Through her patient and effective teaching, I was able to exponentially increase my language level. The summer after my first year studying Arabic I was fortunate enough to receive a coveted Critical Language Scholarship through American Councils. I spent that summer in Meknes, Morocco where I completed 8 weeks of intensive Arabic studies, learned the local Darija (dialect), and enriched my knowledge of the country itself. Coming home from after my trip it was clear that my language skills had gone from barely acceptable to incredible. I became an asset to the classroom and my language class (which usually stressed me out) became the easiest part of my semester.
I am also very connected to my Peruvian side! I speak Spanish fluently and I am very knowledgeable when it comes to incan society. I speak Spanish with my dad and my grandma in Peru doesn't speak a word of English. I am a member of a couple different mariachis (though I am Peruvian not Mexican) including the Mariachi Fuego at UIC and I play for another group called Mariachi Cuatro Vientos outside of my school time.
I now work as an Alumni Ambassador for the Critical Language Scholarship Program where I share my success story and encourage others to put themselves out there to achieve their language goals.
Modified on January 07, 2022