Felipe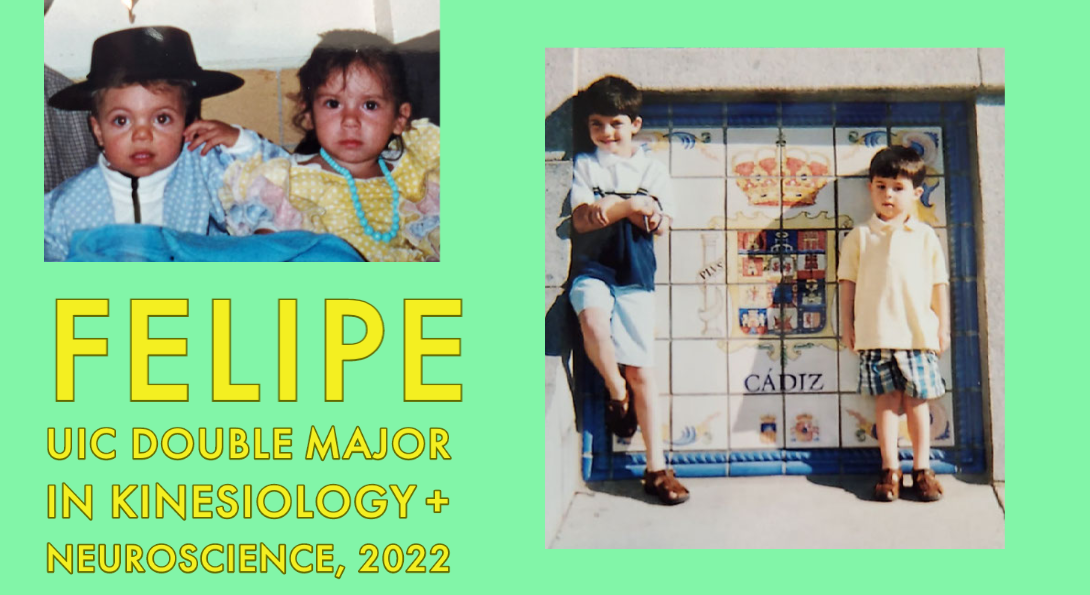 - Felipe, UIC Double major in Kinesiology and Neuroscience, May 2022
My parents are from Spain, so I grew up bilingual. When I was born, my mom had only been living in the United States for a few years. She was still working on learning English, so she would mostly speak in Spanish. My dad is bilingual, so he would speak in a mix of English and Spanish. As a result of this, I grew up speaking both English and Spanish at home. This heritage speaker's understanding meant that I could speak, listen, and read in Spanish, but when it came to writing, I struggled with proper grammar. I knew what sounded right, but I could not articulate why it was right.
I took 3 years of Introductory French in middle school, but then stopped once I got to high school. In high school, I placed into the higher level Spanish classes and took those to gain a better understanding of the language I had spoken since childhood. Upon coming to UIC, I decided to try learning French again as a way to take a break from all of the STEM classes I would be taking. I did not remember much from the three years I had taken previously, but I slowly began remembering and learning as my classes progressed.
After finishing the BLP program here at UIC, I still wanted to further develop my understanding of the French language, so I modified my planned course schedule for my remaining semesters to include various upper level French classes. Knowing more than one language is advantageous for almost any career path. I have already been able to experience this in part while being both an RA and a French peer tutor at UIC. In knowing multiple languages, I am truly able to connect more with those around me. Whether this be through our shared love for the language and culture or through their desire to learn more and my ability to help teach them.
I plan on going into the medical field, so knowing different languages is something that I hope to apply when interacting with patients whose native language may not be English. The goal of this is to make people in need feel as comfortable as possible when seeking out care.
Modified on January 07, 2022