Elizabeth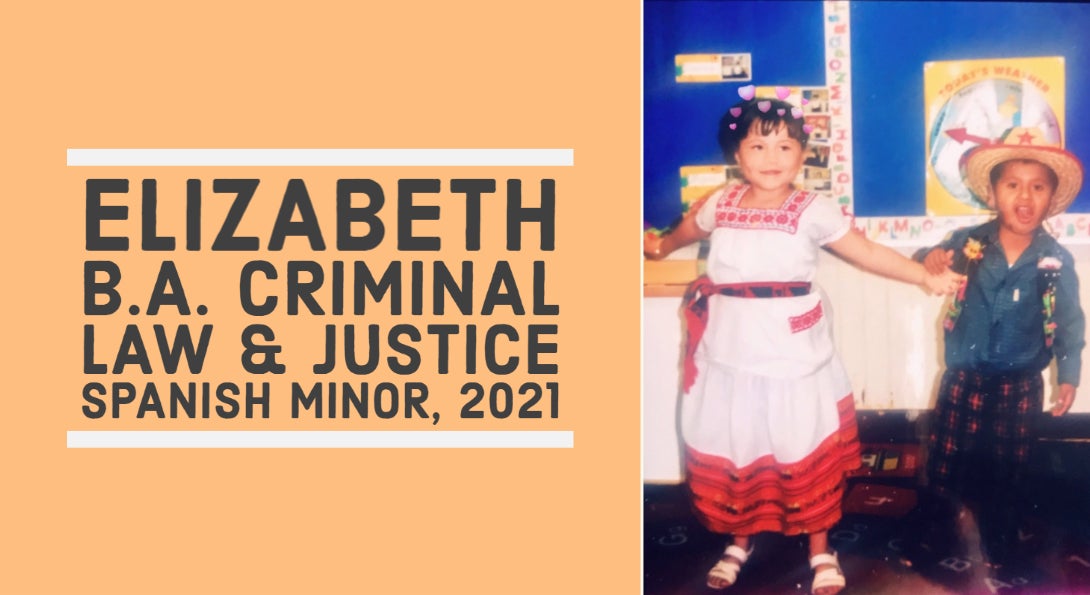 -Elizabeth, B. A. Criminal Law and Justice, minor in Spanish, 2021
I am Mexican-American. I learned to speak Spanish at home with my grandparents. Spanish has always been my number one language, even if I was born in the US. I speak Spanish with my whole family, and my friends too. Sometimes I speak Spanglish!
I've always been proud of my culture and where I come from. That has led me to many opportunities where I help people. I like to do volunteer work, especially helping people.
I myself and my family are part of the minority as Latinos. I know that many Latinos do not speak another language other than Spanish, so sometimes they need help with translation or live interpretation.
Every time I get the chance to help someone to understand or translate words I always do so. I do this in the most genuine and caring way I can because I want everyone to feel comfortable. This usually happens randomly, I have helped people on the bus, in stores, and even at the doctor.
When I noticed that being bilingual gave me the opportunity to help others, I decided to minor in Spanish at UIC. In high school all the Spanish classes I took were Advanced Placement or International Baccalaureate and that has helped me get college credit.
I believe my accent comes out at times and I am completely fine with it because like I said, I am proud of where I come from. Learning English and proper Spanish has been pretty easy for me. I like to read and watch films in Spanish, which is why some of my favorite classes at UIC have been SPAN 210, 212, and 303!
I end up falling in love with the language all over again when I learn new concepts or come across a new favorite show. Fun fact, I love shows produced in Spain! You got it right. I like to hear different types of accents.
It is so interesting that a language can unite us, but we do not have the same dialogue, as I know a different Spanish than that spoken in Spain. I also am open to learning new languages. I want to master Italian and French and I am hoping I am able to do so!
Modified on January 07, 2022