Aniela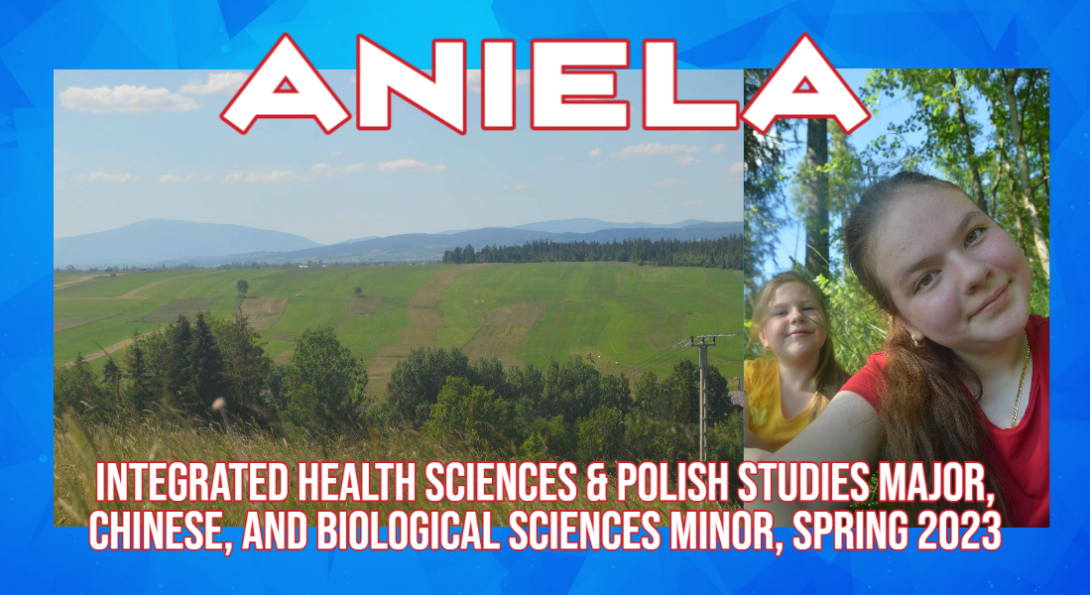 My parents have always instilled in me the importance of always staying connected to Polish culture and community. I attended Polish school at St. Blase in Summit, Illinois from Kindergarten to 11th grade of high school where I learned about the language, geography, culture, and history of Poland. One particular experience stands out with my Polish school high school teacher. She supported my journey throughout Polish high school by encouraging me to continue working hard and not give up. It was difficult balancing 5 hours of Polish school a week along with my 5 days a week high school, but my teacher made exceptions if some assignments took longer to complete. I support teens like my sister and others to encourage them to take part in Polish high school as it was an enriching experience.
My patriotism stems from my parents and my teacher as they instill cultural values and traditions into me to keep the spirit of Poland alive within us and for generations to come.
My parents are from Stare Bystre, Poland and this has had a significant impact on me because they were not presented with the same opportunities which are offered to me now. My parents let me know the importance of being appreciative of what I have as well as the importance of getting an education. They predominantly worked on farms and were ultimately forced to drop out of school in eighth grade to help their parents.
I am a senior pursuing a double degree with a major in Integrated Health Sciences and a major in Polish Studies, along with minors in Biological Sciences and Chinese. I will be the first in my family to graduate from college. I decided to major in Polish studies to build on the education I had learned from Polish school in my younger years. I also speak a Goral (Highlander) dialect at home and I wanted to learn the standard dialect. I am grateful to have a professor like Pani Izolda who is very passionate about teaching the Polish language. She has taught me the standard dialect, while respecting my Goral dialect. I have become more confident in speaking Polish through her teachings. In the Spring 2023 semester, I also became a Polish language conversation tutor. I have been engaging in conversations with students in POL 102 to help improve their speaking abilities in Polish. I hope that my actions inspire other members of my community to remain connected to their cultures and build on the knowledge they have of their language, culture, and history. I also hope to further expand my knowledge while studying abroad this summer in Kraków. I want to thank Professor Underhill of the Polish, Russian, and Lithuanian Studies department, who introduced me to the Kosciuszko Foundation's summer abroad program and has encouraged me to apply.
I also decided to minor in the Chinese language to further immerse myself in the language and cultures of my peers. I first began studying Chinese in high school and I took the placement here at UIC and I was placed into CHIN 104. While taking Chinese classes at UIC, I enjoy the small class sizes because it allows for more personalized attention. I have also been able to build a strong bond with 孟老师 (Mèng lǎoshī) who has been my instructor from CHIN 104 to CHIN 209. 孟老师 has always encouraged me to not worry about making mistakes when speaking Chinese. Her passion in teaching has allowed my Chinese level to move from intermediate to advanced. I also learned extensively about Chinese culture and every year, I celebrate the Lunar New Year and the Mid-Autumn Festival. I have gotten to try mooncakes, dumplings, and rice cake. Being exposed to Chinese culture and traditional foods have deepened my language. I have used my Chinese in unexpected places, like interpreting at my job at a Pediatric Urgent Care and conversations on the bus.
I have aspirations to go to medical school after I graduate from college in Dec 2023. I want to become a Family Physician to provide care for Polish patients in the Chicagoland area. With Chicago having the highest Polish population outside of Poland, many Polish people do not have adequate access to healthcare as they cannot advocate for themselves. I have seen this firsthand through hearing my father's experiences of going to the doctor as well as volunteering at the Community Health clinic as a Polish Volunteer Medical Interpreter.
One encounter at the Community Health clinic sticks out to me where there was a woman who only spoke Polish and was so happy to hear me speaking Polish. She voiced hesitancy about being in the clinic because of previous experiences in other clinics in Chicago that made her feel belittled. She told me that often providers are frustrated when they learn that she does not speak English and speak louder and slower to her, but that still does not get her to understand what is going on. She felt confused and hopeless, worried that her concerns would be dismissed and not acknowledged. I was happy to make her feel seen and heard. She was so thankful that I interpreted what the doctor said in a way she could understand.
I believe that we individually have the power to change and improve the lives of those in our communities, which is why I want to serve as a voice for my patients and give them quality care they deserve, as it is a human right. My goal in the future is to open my clinic in the future here in Chicago that targets patients of common languages spoken here, including Polish, Spanish, Chinese, and Arabic. I hope to hire providers and staff who speak those common languages so that all patients can feel welcome and have their concerns met. I hope that this will encourage more individuals to seek care as many fear going to the doctor due to not being able to understand what is happening because of the language barrier.
Modified on February 23, 2023