Andrea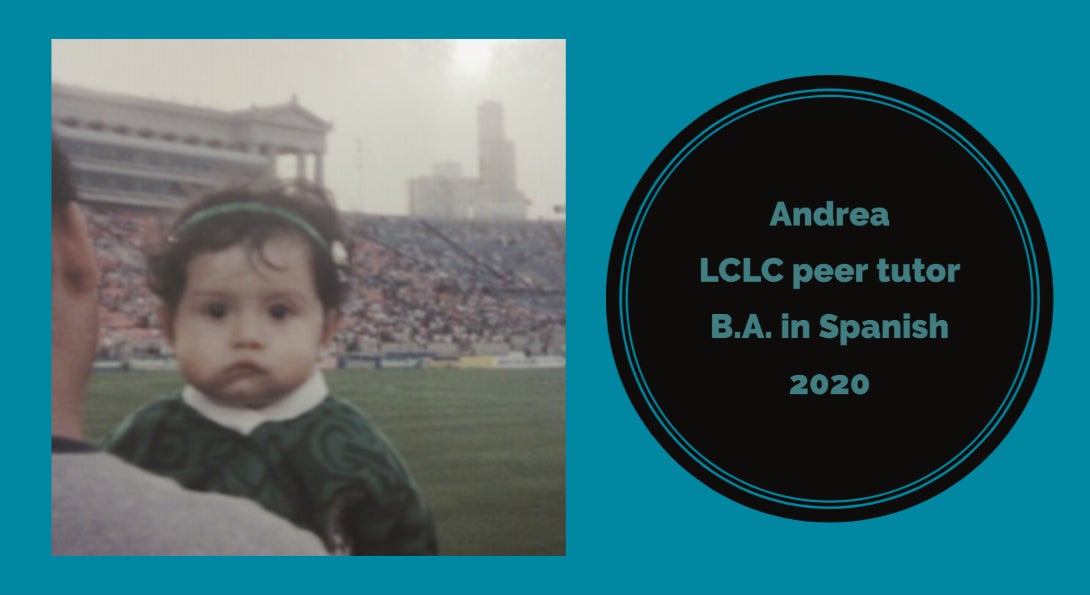 Andrea, UIC B.A. in Spanish and LCLC Peer Tutor, 2020
Spanish is my first language. It was the first language I ever learned. My parents migrated from Mexico to the U.S and the only language they spoke was Spanish. I was their first child and an only child for a few years. Thus, as they were raising me they did it all in Spanish. My mom used to read a lot to me in Spanish because she saw I had an affinity for books even before I started school. When it was time for me to go to school, she enrolled me in bilingual classes; however, I don't remember them actually being bilingual, everything was in Spanish. I learned to read and write in Spanish as well as learn all other subjects in Spanish. It wasn't until the second grade when teachers started to incorporate English into their lessons. I didn't find English hard but I did notice I had an accent, which felt embarrassing and discouraging. At the end of second grade my teacher informed me that my English was very good and that the following year I was going to be placed in an English only classroom. I was very nervous about this because I didn't feel confident enough.
However, learning English was not that hard for me and by being in an English only classroom my accent went away soon due to how much I was practicing and exposed to English. After I was placed in English only classes, I didn't have classes in Spanish at all. I was only exposed to Spanish at home when talking to my parents. I was grateful that Spanish was spoken at home because it allowed me to practice spoken Spanish; however, since I stopped reading and writing in Spanish I knew those areas were not as good as they could be.
It wasn't until my senior year of high school that I took another Spanish class. We had to take a language course in high school and the only language that was offered was Spanish. I actually placed into AP Spanish because my spoken Spanish was very good due to the fact that I still spoke it at home. I did very well in AP Spanish but did struggle with grammar a little. After high school I didn't think I was going to take a Spanish class ever again. However, here at UIC they also told me I needed to take a language course so I decided to take Spanish again. I had previously enjoyed learning Spanish in an academic setting so I found myself really liking it in college too. I soon realized that my Spanish courses were the classes I looked forward to the most. At that time I was undecided so I did some research on what you can do with a Bachelors in Spanish. It turns out you can do so many things with a BA in Spanish, so I ended up declaring Spanish as my major. I love the Spanish language not only because it was my first language but because I sort of fell in love with it all over again.
Modified on March 01, 2021